Guided By History, We Design the Future – Foss Architecture & Interiors, one of the country's longest-established architecture firms, celebrates 125 years of innovative design. Established in 1898, the company was founded by Andrew H. Foss who immigrated from Norway to Grand Forks, ND, practiced in Minneapolis & Winona, MN, and then operated a successful construction and architecture firm in Elbow Lake, Crookston, St. Cloud & Fergus Falls, MN. With offices located at the center of the tristate region, Foss built roots throughout Minnesota, North Dakota and South Dakota, designing hundreds of schools, churches, residences and civic architecture. After WWII, Foss Architecture & Interiors made Fargo-Moorhead their company headquarters and has since designed over 5,000 projects in over 500 communities throughout the region. The firm is currently led by principals Wade Erickson, Adam Peterson, Shelly Richard, and Steve Skoblik. Their team continues to design for healthcare, K-12 schools, colleges & universities, civic & government, industrial, corporate offices, multi-family residential, sports facilities, churches, hospitality, retail and more.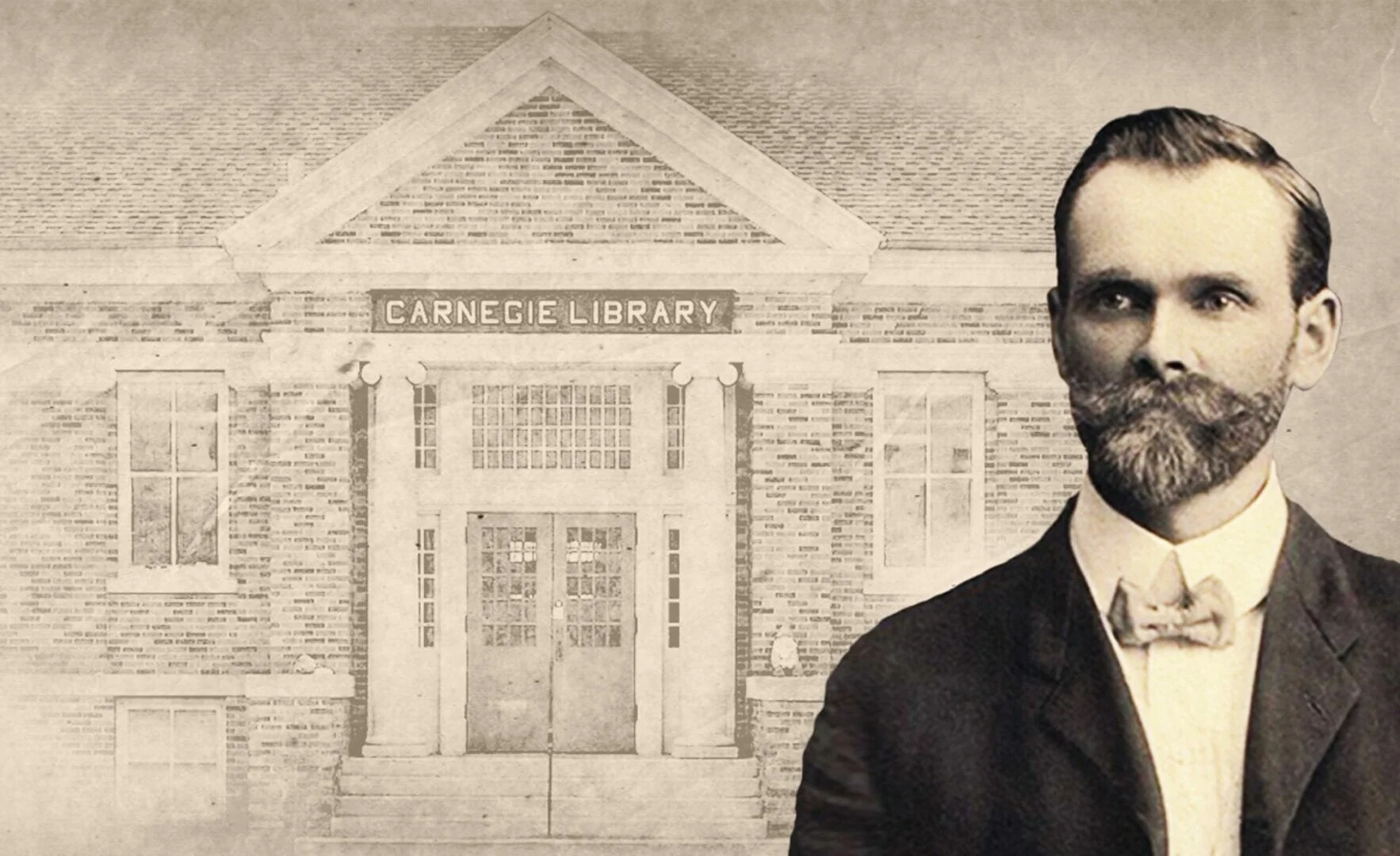 [CIVIC ARCHITECTURE]
Several of Foss Architecture & Interiors' projects are on the National Register of Historic Places including two Carnegie Libraries from the turn of the century. The 1908 Glenwood, MN Library and 1917 Dawson, MN Library both feature a Classical Revival style with Ionic columns supporting a pointed pediment at their entrances. "I love contemporary architecture," says Adam Peterson, "but I also have a strong appreciation for the craft and detail that can be seen in many of Foss's historic buildings." Included in Foss's extensive portfolio of civic buildings are several courthouses throughout the region. The 1942 Becker County Courthouse in Detroit Lakes, MN features an Art Deco style with black granite banding and a 2 ½ ton black stone eagle perched above the entrance as a symbol of authority. "You can definitely see the Art Deco influences," according to Peterson, "including the eagle's stylistic similarity to the eagles perched above the Chrysler Building in New York City, also of Art Deco design." Foss hand-sketched designs for every little detail, from the building facade to the interior chandeliers.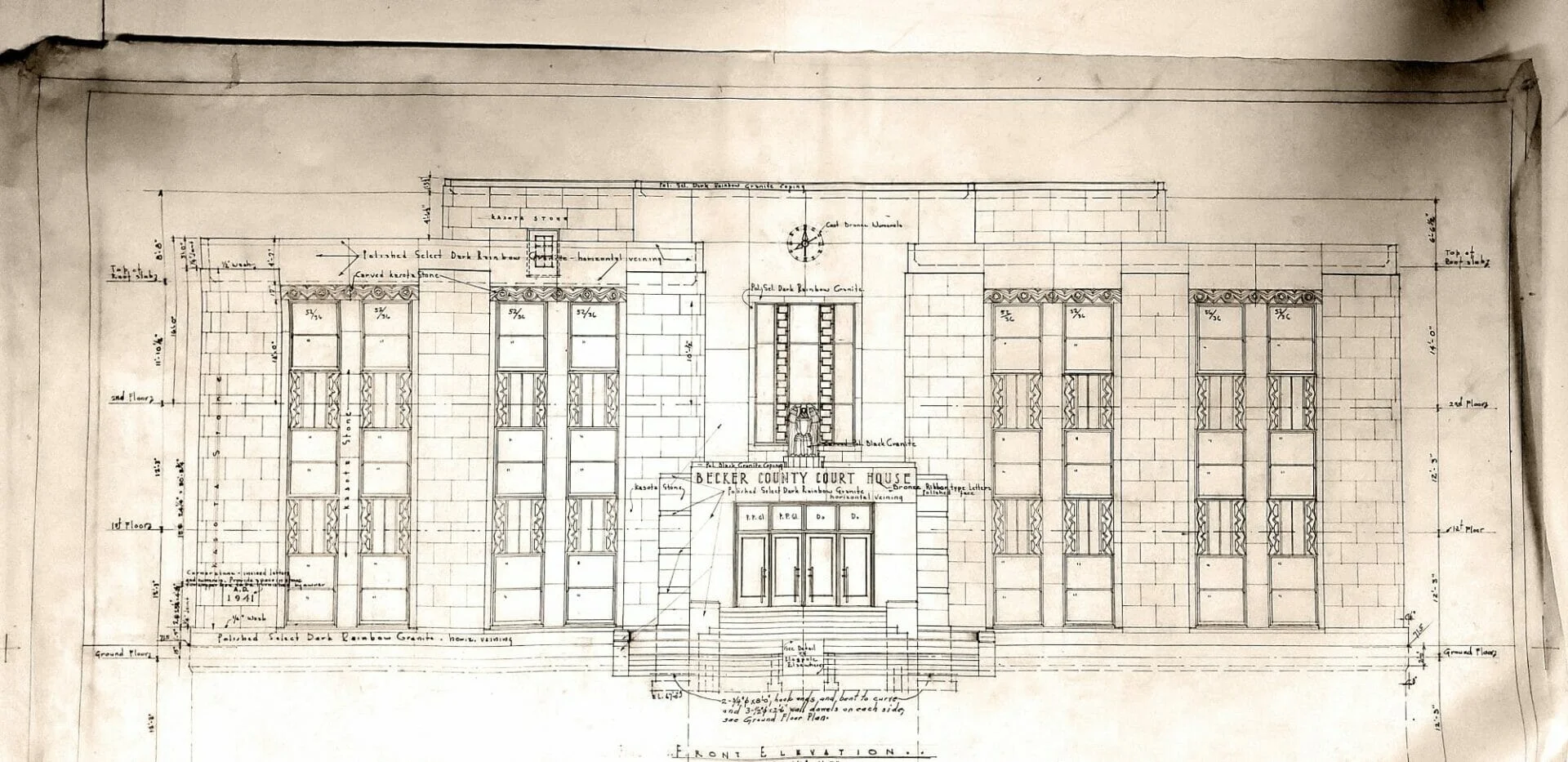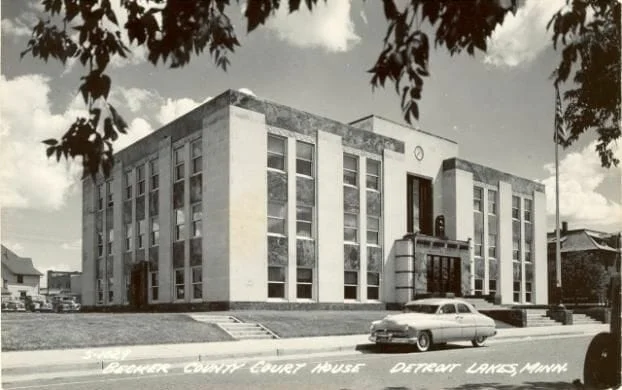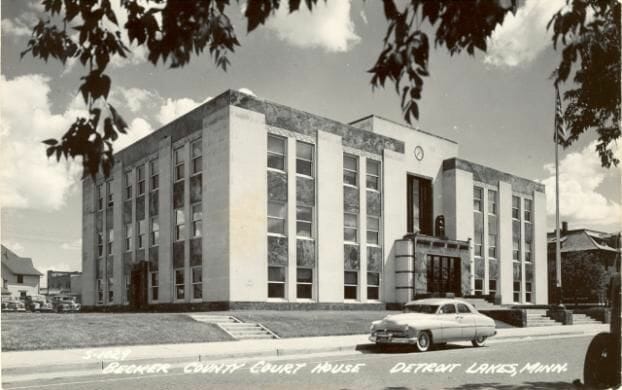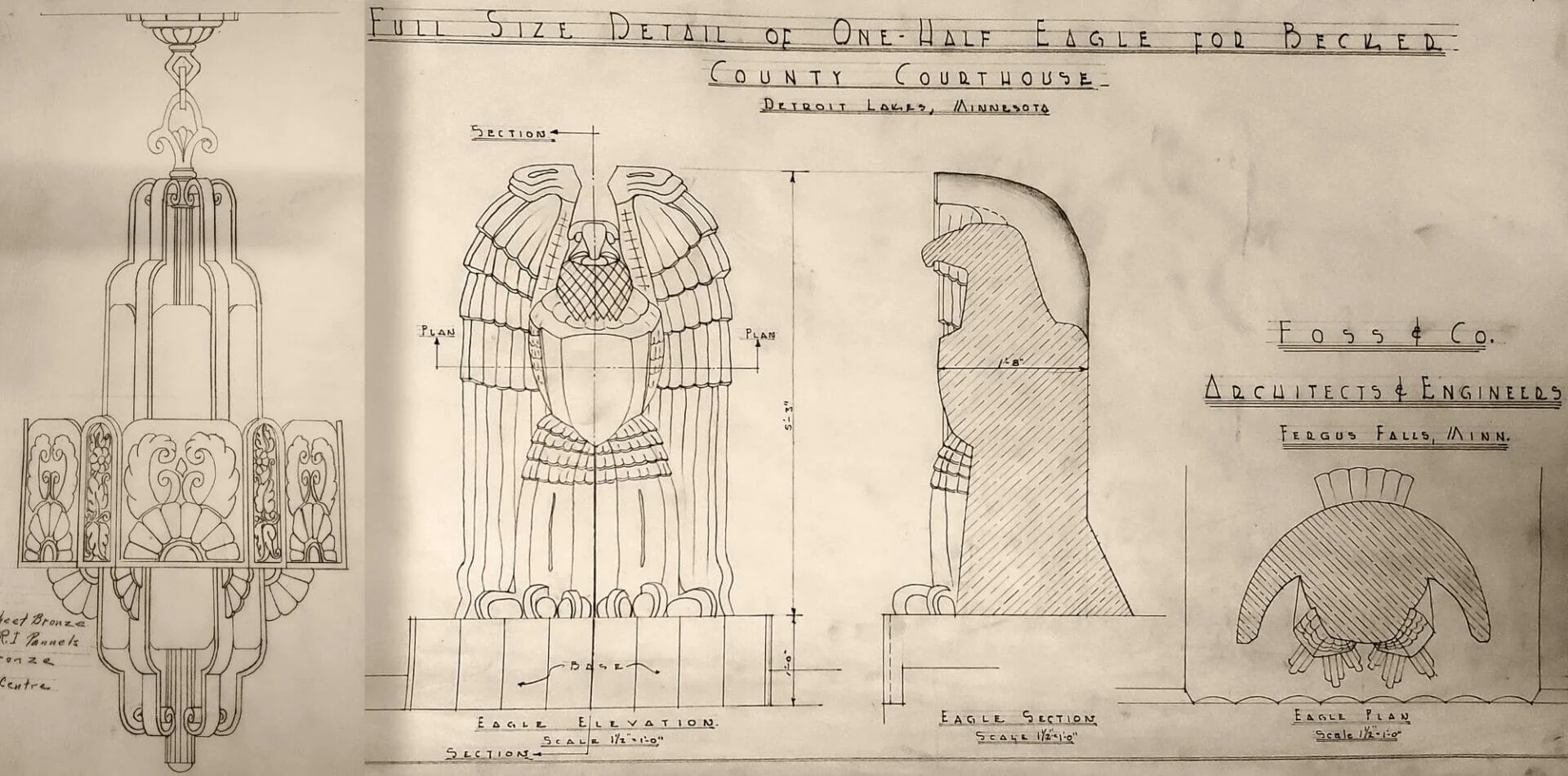 In recent years, Foss was involved in the design of the Cass County Courthouse West Addition in Fargo, ND. Steve Skoblik worked on the building as project architect and Adam Peterson as a designer. "It was a fun challenge designing a new addition and skywalk that was sensitive to the adjacent historic courthouse," said Peterson. "The barrel-vaulted ceilings in the courtrooms add a modern touch while still maintaining that judicial feel." Salvaged sandstone from the former jail was used in the building's cladding and landscaping. Skoblik said, "It was quite the task sifting through all the salvaged stone in a storage yard, but it was worth the extra diligence to maintain the building's historic character."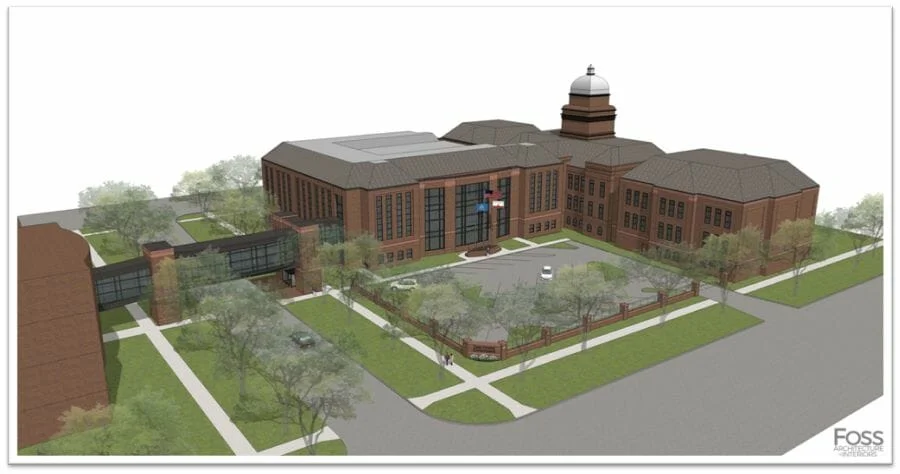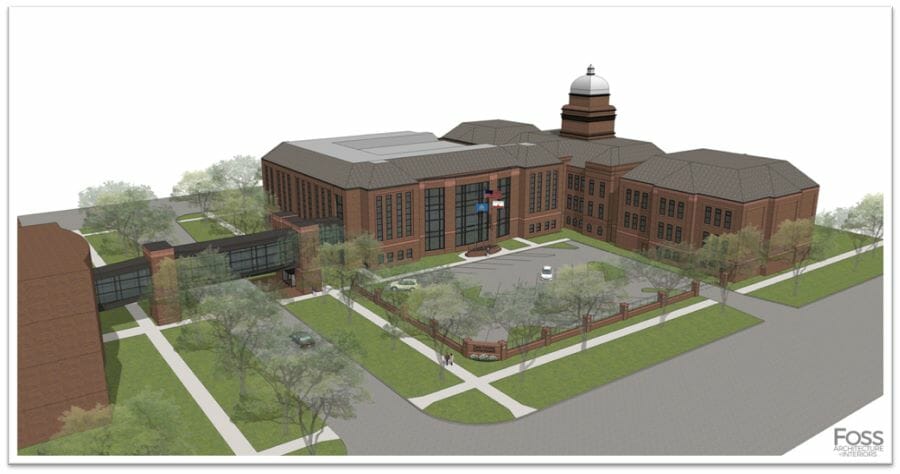 [EDUCATION]
Foss has designed numerous schools beginning in the 1910's with the Wendell, Glenwood, & Grove Lake schools in Minnesota. Then in 1917, Foss designed two district schoolhouses in Sterling, ND. The 1917 McKenzie Gazette stated, "This move shows the progressive up-to-date spirit of the voters of our township. The buildings themselves will add greatly to the 'prosperity look' and boost our community as nothing else would do." By the 1920's, Foss was designing larger high school buildings to support more students throughout the tristate region.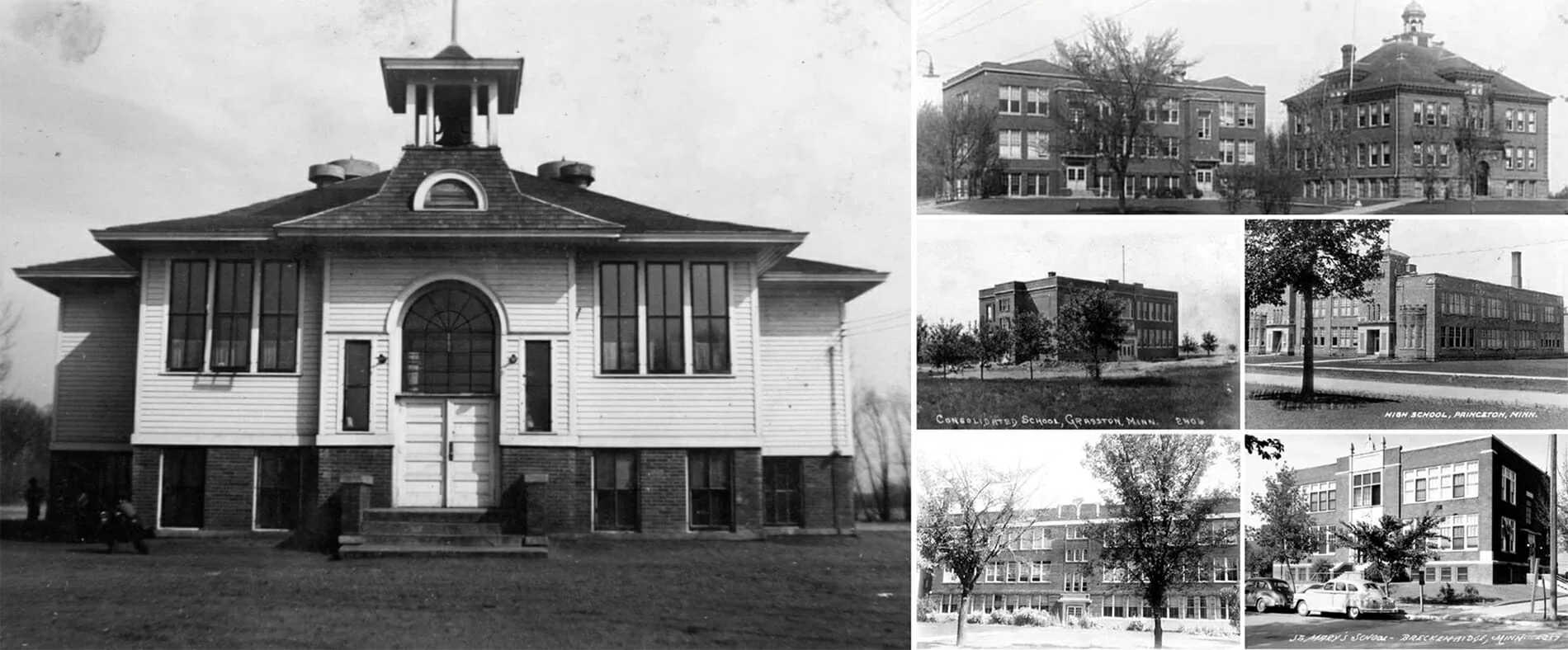 Today, Foss's school designs are vastly different. "While education is just as important, we're seeing much more focus on athletics in K-12 schools," explains Wade Erickson. "The practice facilities we recently designed for schools in the towns of Ada, Menahga, and Red Lake Falls enhance school pride through the use of color and branding." Foss's recent Menahga High School addition is an example of schools seeing the benefit of introducing more flexibility and natural lighting into spaces. "We designed the cafeteria commons to be a flexible central gathering hub where students enjoy hanging out," explained Skoblik. Clerestory windows and a two-story volume add daylight to the space while wood glulam columns add character and warmth.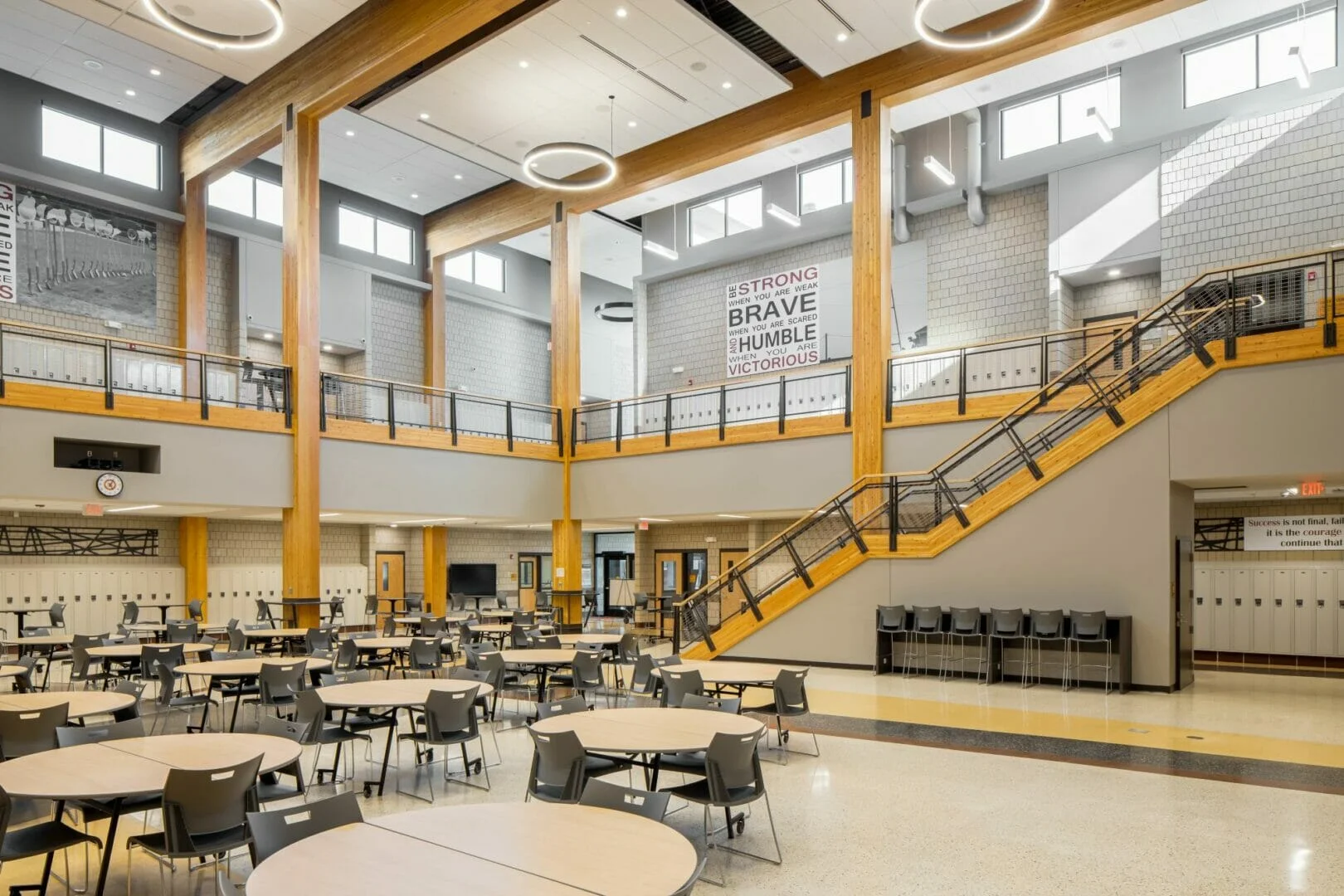 In addition to being the Midwest's leader in K-12 education since the 1900's, Foss's higher education work exploded in the 60's at the time when Moorhead State College in Minnesota, now MSUM, was one of the fastest growing colleges in the Upper Midwest. Foss designed over a dozen buildings on campus including the Center for the Arts, Memorial Union, several dormitories, and most recently designed the MSUM Alumni Center which is now under construction. Peterson says, "Foss's buildings on campus shaped MSUM's history, so being able to commemorate MSUM's success in a brand-new Alumni Center is a great honor."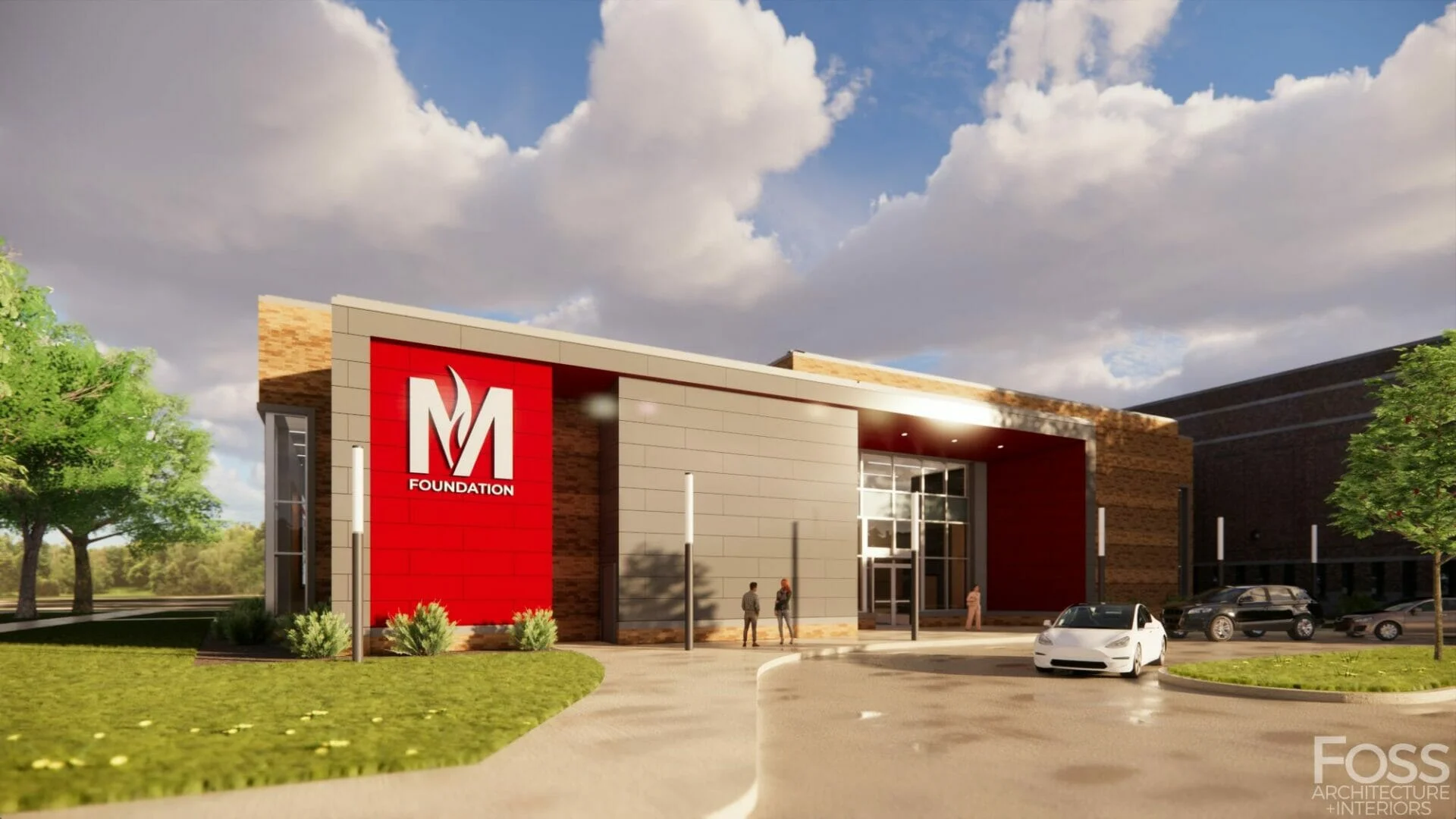 Foss has grown into the region's leader in Higher Education, designing state-of-the-art facilities for instruction, research, and athletics. Foss's recent examples in each category include the VCSU Vangstad Classroom Building (instruction), Concordia Integrated Science Center (research), and NDSU Bison Football Performance Complex (athletics). The Vangstad Classroom Building, located on the charming campus of Valley City State University, involved the renovation of the historic Vangstad Hall and Auditorium into the college's Business & Learning Center. The Concordia Integrated Science Center was an adaptive reuse project that turned a 1960's building into a contemporary research facility that will serve future generations for years to come. The NDSU Bison Football Performance Complex is a new standalone facility that will provide year-round practice space for football, soccer, baseball, golf and other activities, along with weight rooms, locker rooms, training space, and a recruitment lounge.
"NDSU Athletics has built a dynasty on the field," says Skoblik. "Now they'll have a premier practice facility indicative of the program's success."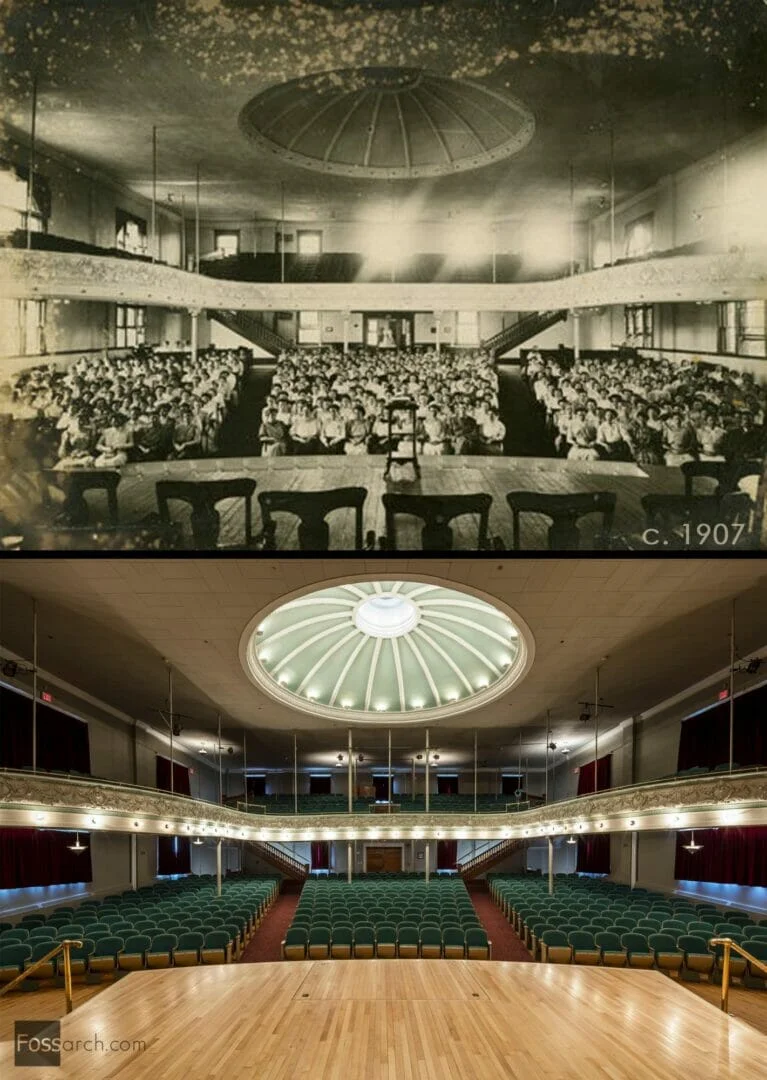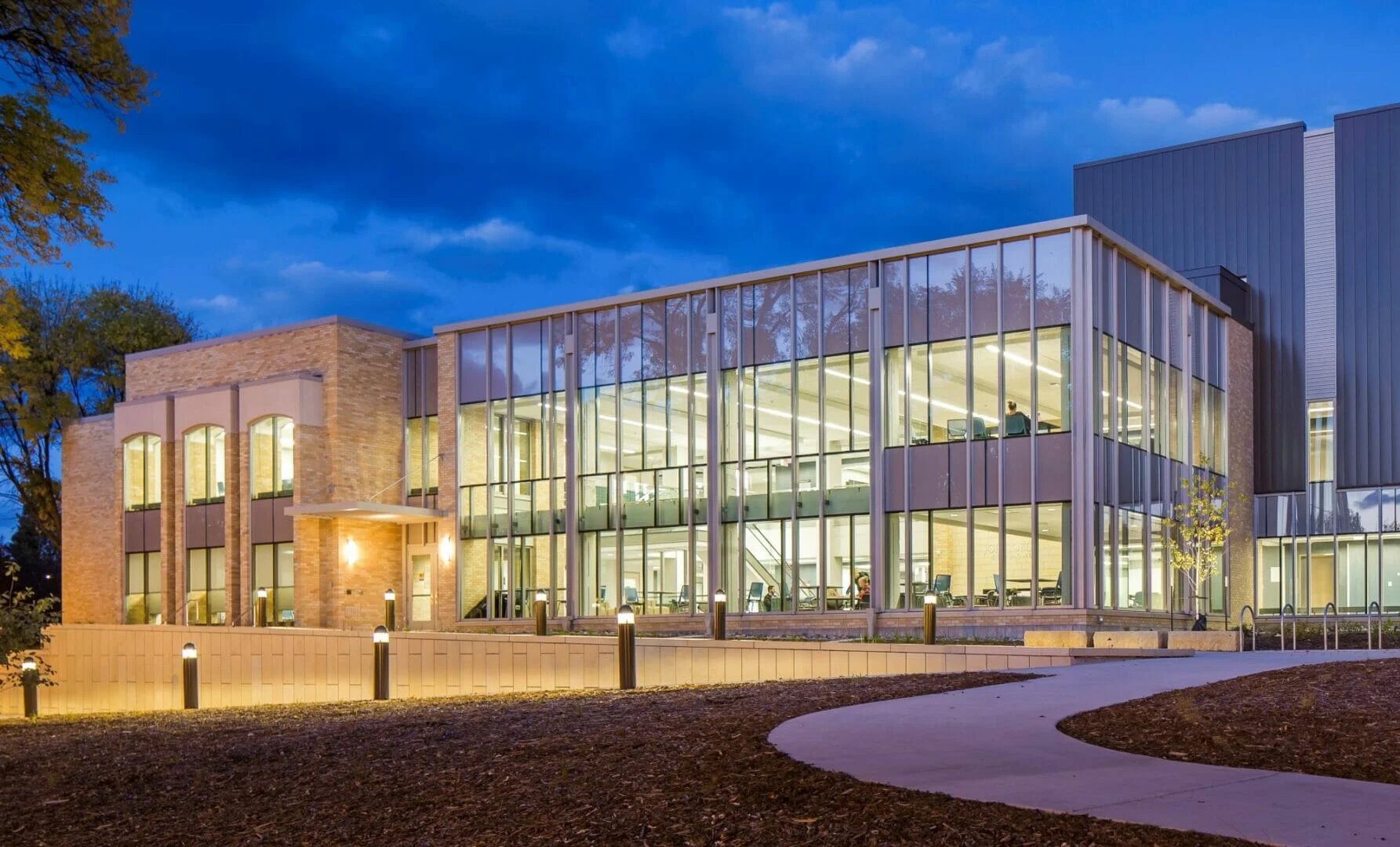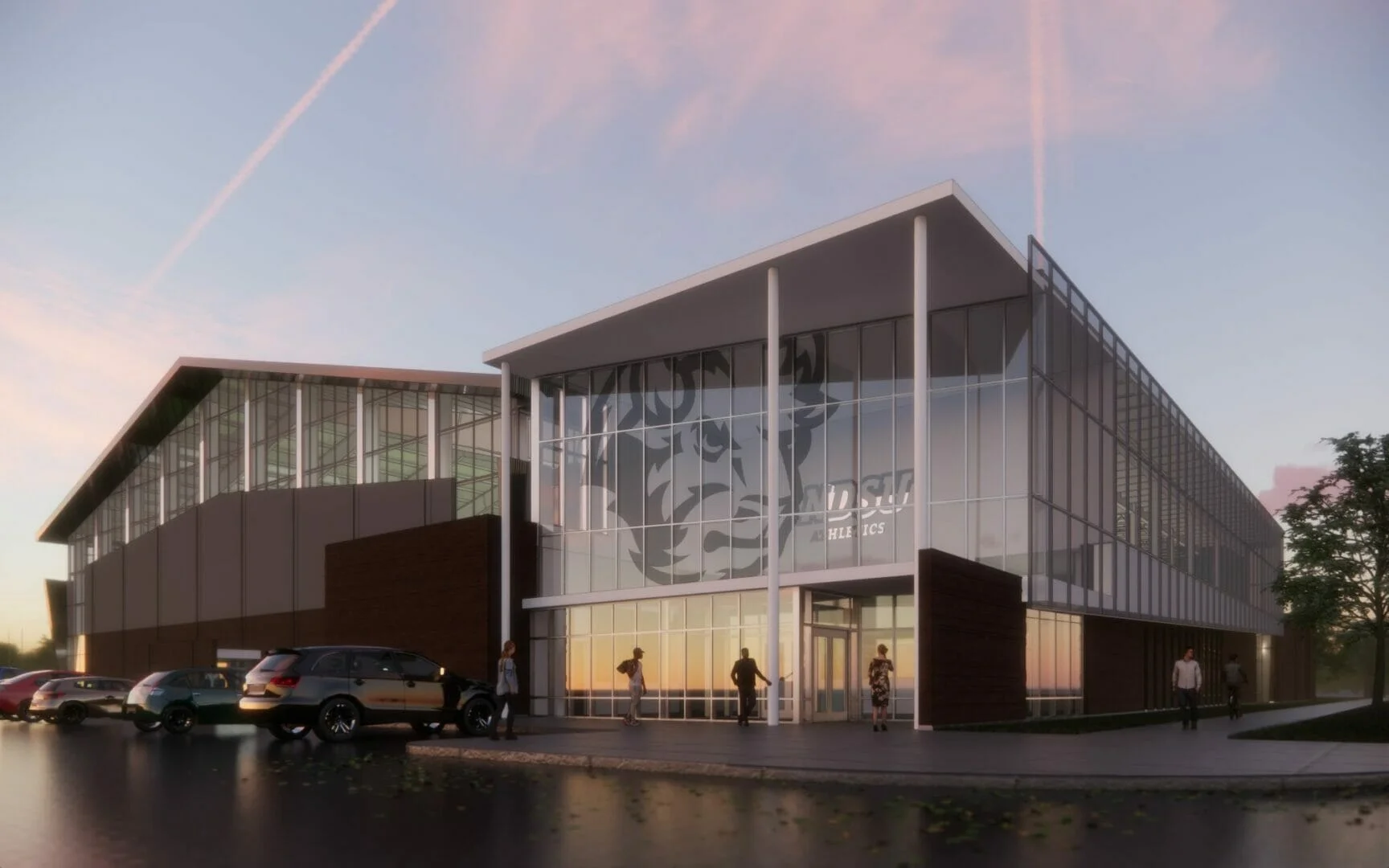 [HEALTHCARE]
Foss's first known hospital design was in 1911 for a 2-story brick house located in Glenwood, MN for Dr. J.R. Elsey. Sixteen years later, a doctor named Edwin Tanquist purchased a house in Alexandria, MN on the east shore of Lake Winona to use as a hospital. In 1930, Dr. Tanquist hired Foss to replace the house with a 30-bed hospital to meet the needs of the growing community. The Tanquist Hospital later merged and became known as Douglas County Hospital North when a new Douglas County Hospital opened a few blocks south several years later. Over the years, Foss has worked on numerous projects within the south hospital now known as Alomere Health.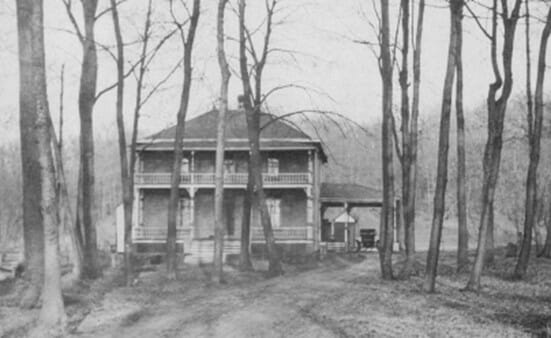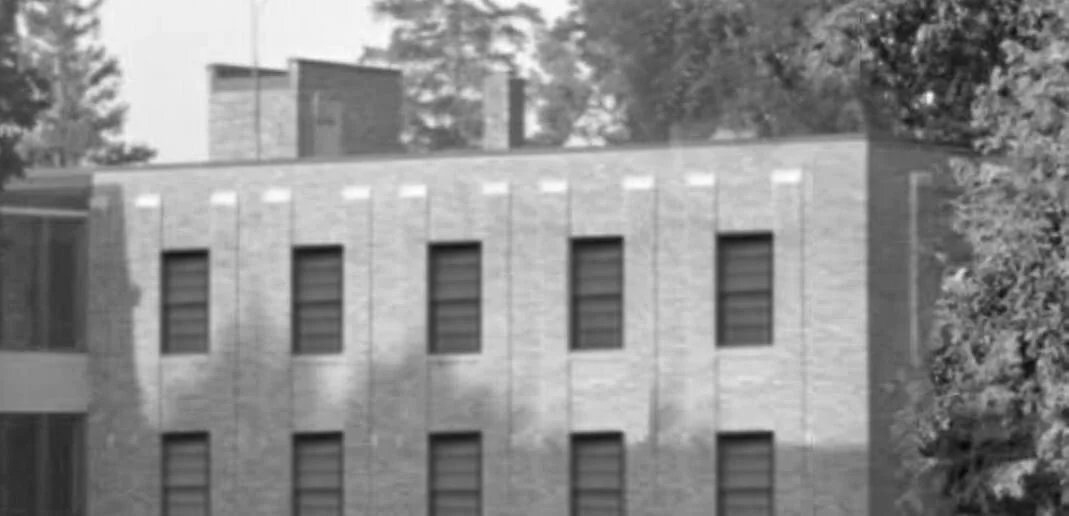 Foss historically shaped healthcare in other communities throughout Minnesota, including for St. Mary's Hospital in Detroit Lakes, Naeve Hospital in Albert Lea, and the Hospital in Bemidji. Throughout North Dakota, Foss's healthcare work includes the Grand Forks Airforce Base Hospital, Mercy Hospital in Valley City, and many MeritCare (now Sanford Health) projects in Fargo-Moorhead.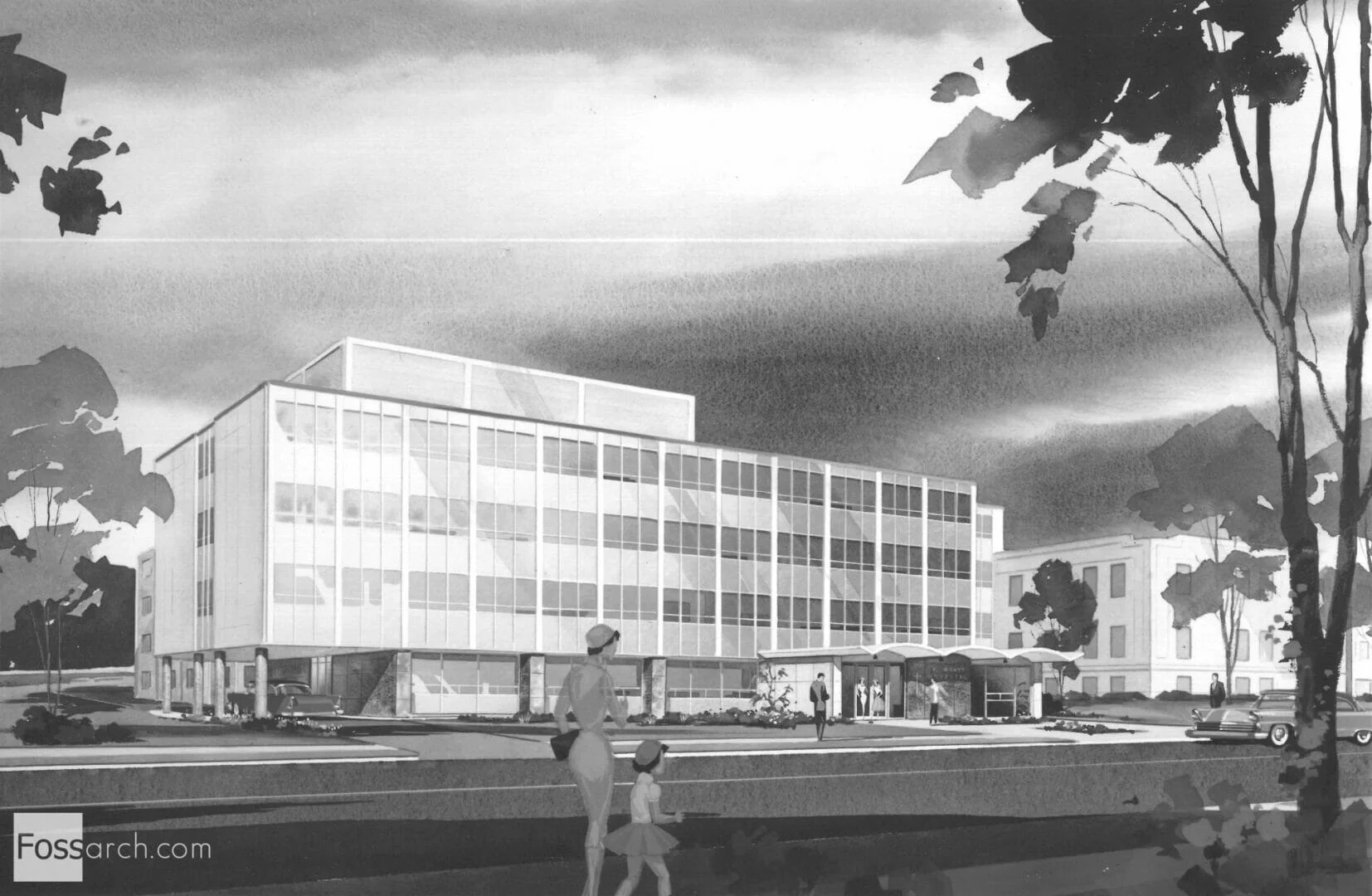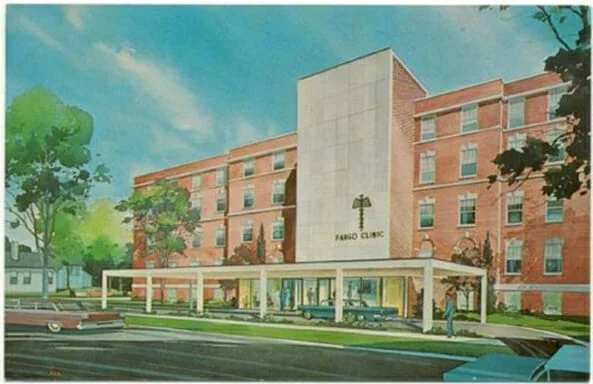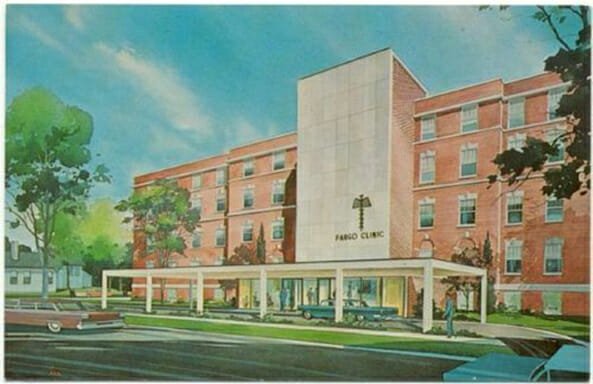 Foss Architecture & Interiors has become the top healthcare firm in the region, designing recent projects for Catholic Health Initiatives, Lifecare Medical Center, Riverview Health, and Sanford Health to name a few. With the healthcare sector seeing continuous change in trends and technology, several healthcare facilities continue expanding, rightsizing, or renovating. According to Wade Erickson, "Our healthcare clients rely on us to coordinate the complex processes of expansion and renovation that you don't typically see in new construction." For example, the $30 million Sanford Orthopedics Sports Medicine facility in Fargo, ND was a 5-year 96,000 square foot multi-phase renovation project that was strategically designed and coordinated to sustain operations throughout construction. Now Sanford has the most comprehensive array of orthopedic services under one roof in North Dakota and western Minnesota.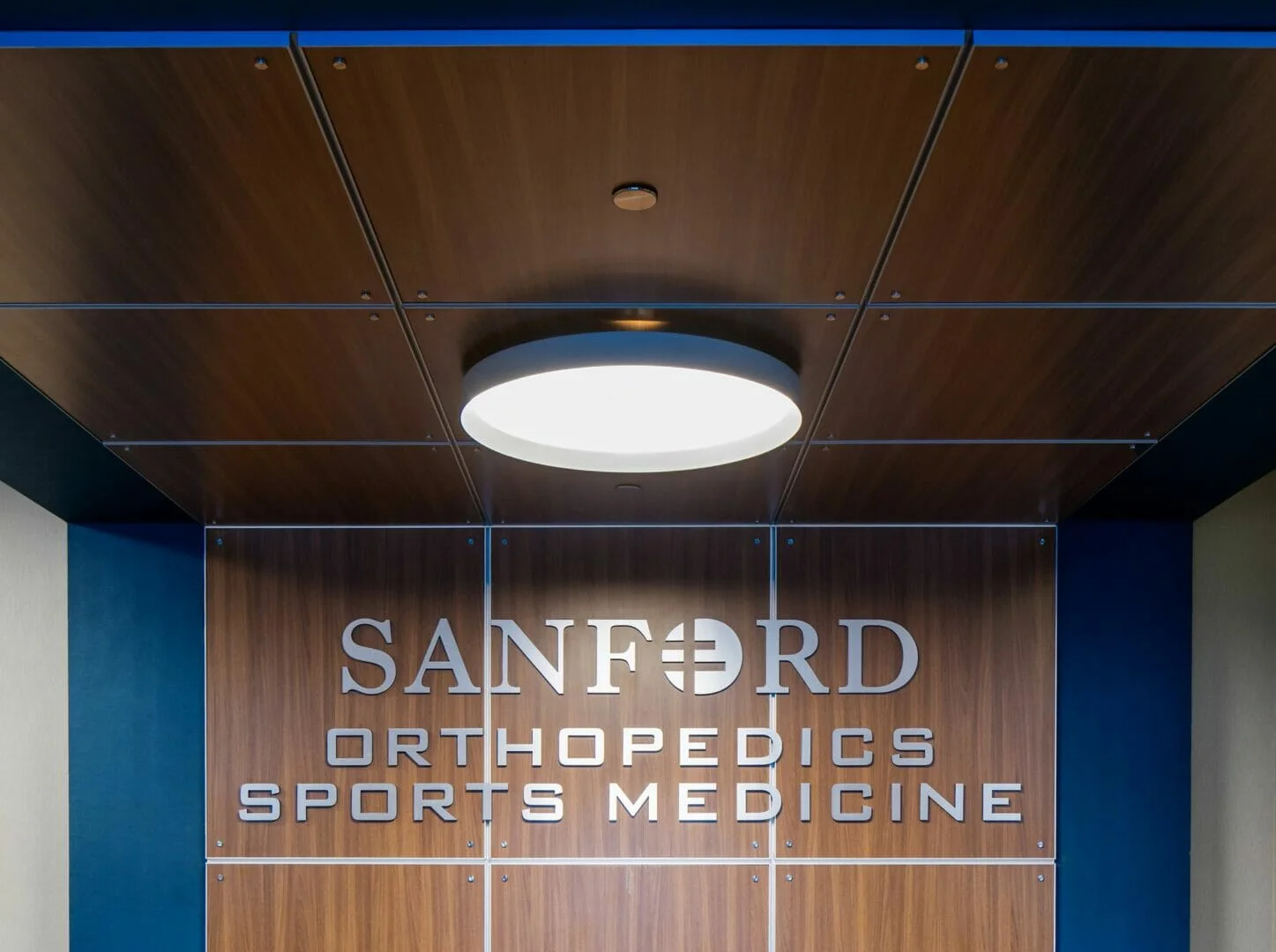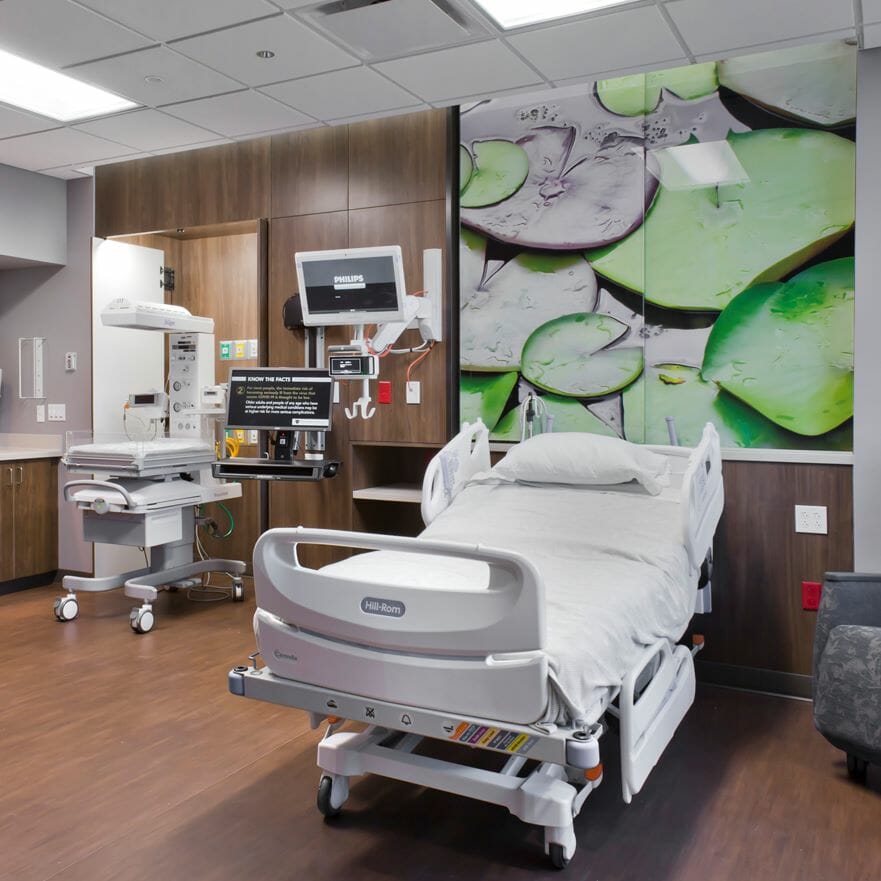 [RELIGIOUS]
Some of Foss's earliest known churches were built near the Elbow Lake, MN office. The 1901 Presbyterian Church in Elbow Lake and the 1908 Our Savior's Synod Lutheran Church in Barrett, MN were designed in the Romanesque style and featured ornate stained glass circular windows, semi-circular arched openings, and a steeple with lantern & spire. "Both are charming churches any bride or groom would find Insta-worthy today," says Peterson.
In the 50's and 60's, Foss designed a number of Mid-Century Modern churches. Much different than the ornate churches of the past, Mid-Century Modern design focuses on clean lines with a mix of organic and simple geometric shapes. The 1958 Christ the King Church in Moorhead, MN features a triangular form with sleek repetitive wood slatting both inside and outside, whereas the 1965 Hope Lutheran Church in Fargo, ND has a circular floor plan, central altar, radial nave, and an oculus opening to the heavens and drawing in light from above.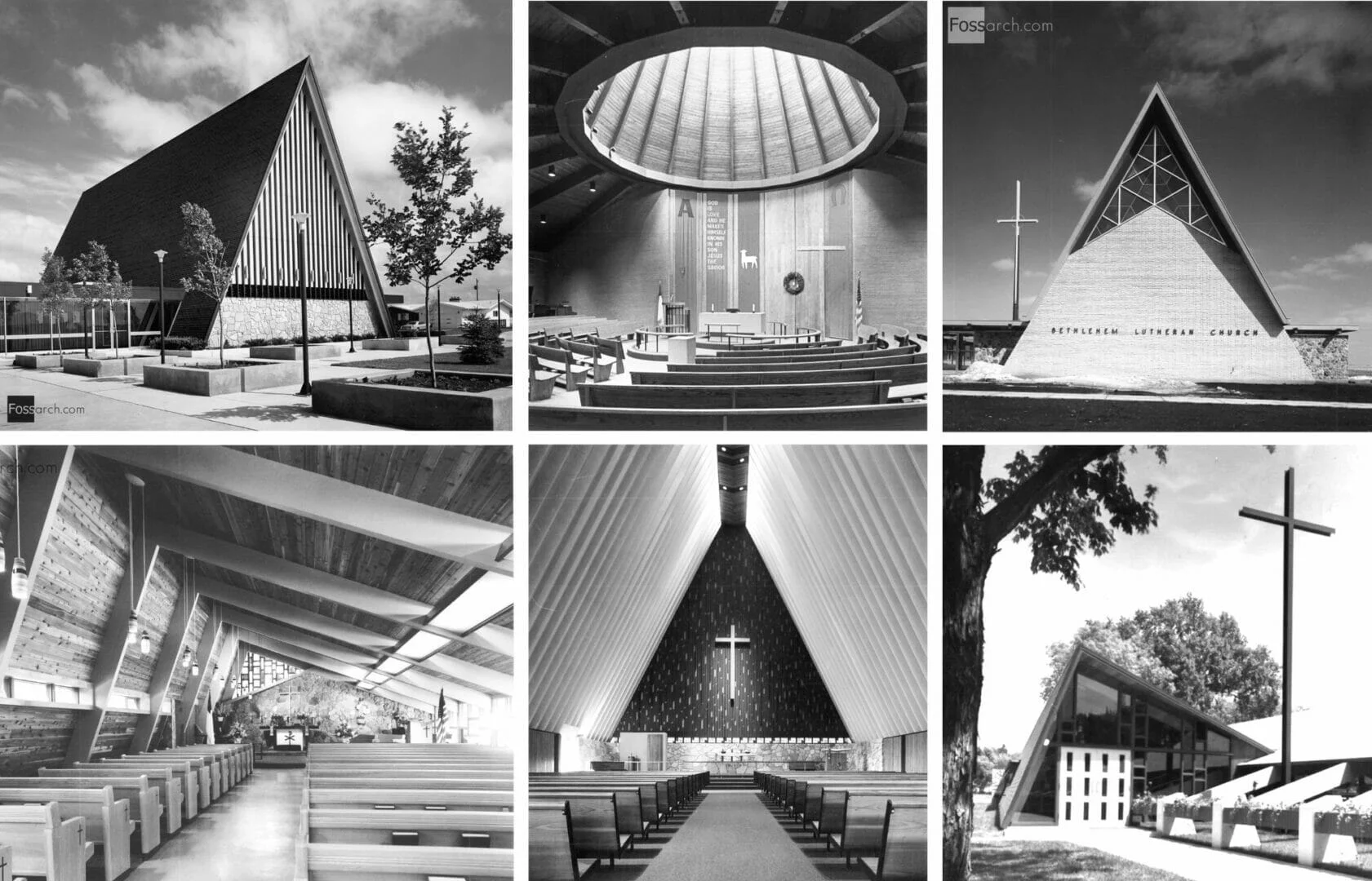 From the 70's onward, elaborate trusswork was introduced to Foss's church designs. "As churches grew larger, trusses allowed longer spans, and they would often be exposed to provide volume and an airy feel," says Erickson. The 1976 Nativity Church utilized exposed steel trusswork, while the 1987 Trinity Lutheran Church in Moorhead, MN and the 2001 Trinity Lutheran Church in Fergus Falls, MN both have wood glulam trusses with wood plank.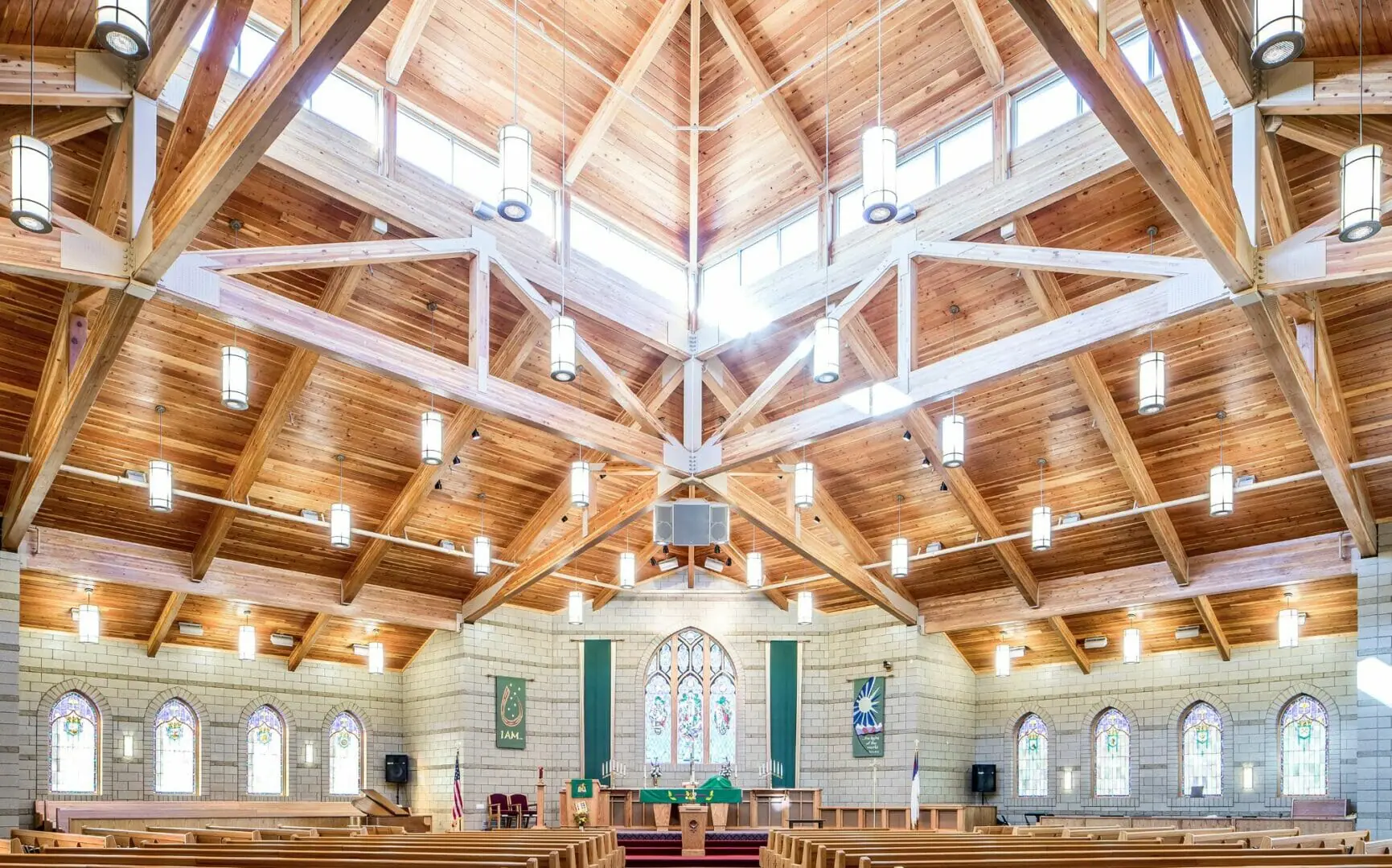 Church design today takes a more laid-back approach. "We're seeing a trend in more casual amenity space in churches, such as indoor playgrounds for kids and coffee shops for adults," says Peterson. "We're also seeing flexible multi-use spaces and rooms open to the outdoors for connecting to nature."
[HOSPITALITY]
Foss's first venture into hospitality was a 1902 hotel in Tenney, MN. Foss then designed the 1910 Haarstad Hotel on main street in Elbow Lake, MN. The quaint two-story buildings had a restaurant on the first floor and hotel rooms above. By 1927, Foss designed a hotel five times the size. The Lakeland Hotel in downtown Willmar, MN features portico windows, metal balconets, and concrete urns located at three corners of the building. It was the city's principal commercial hotel from the late 1920's through much of the 20th century and is now listed on the National Register of Historic Places. A couple years later in 1929, Foss transformed the 1900's Markham Hotel in Bemidji, MN into a Tudor Revival style hotel with pitched gable roofs, brick cladding, and half-timbered walls characteristic of the Tudor style.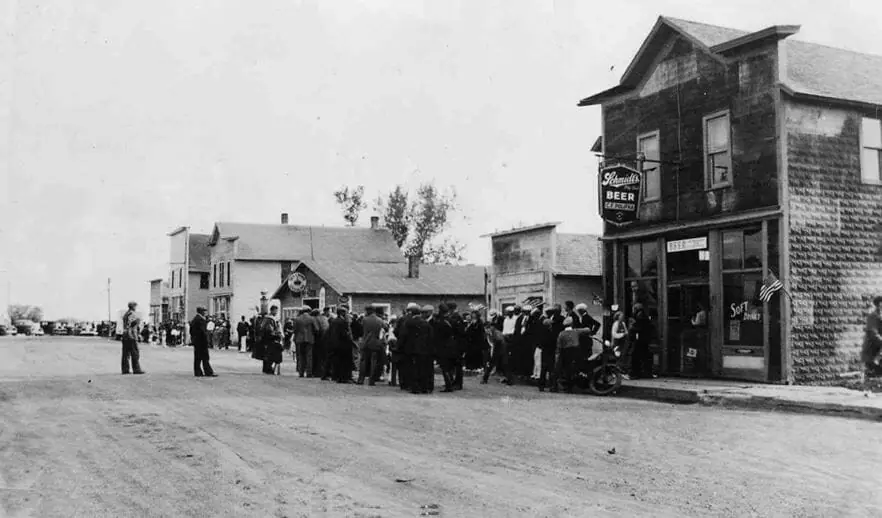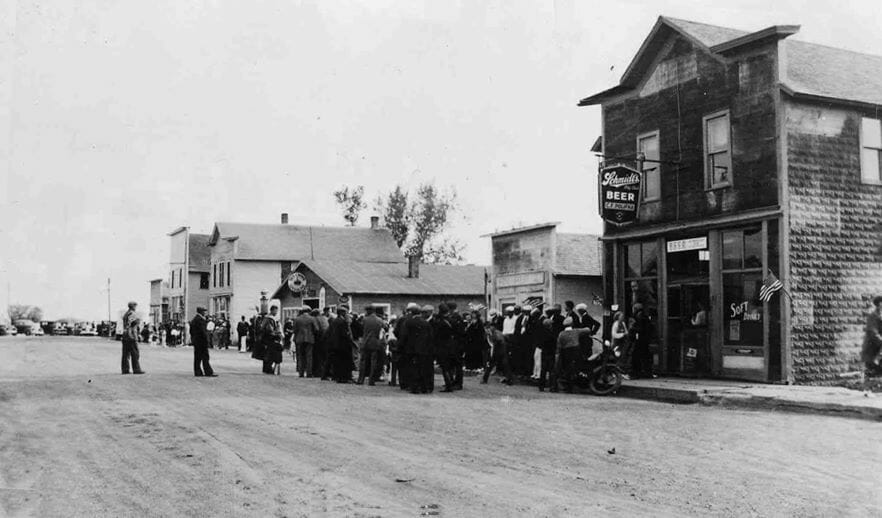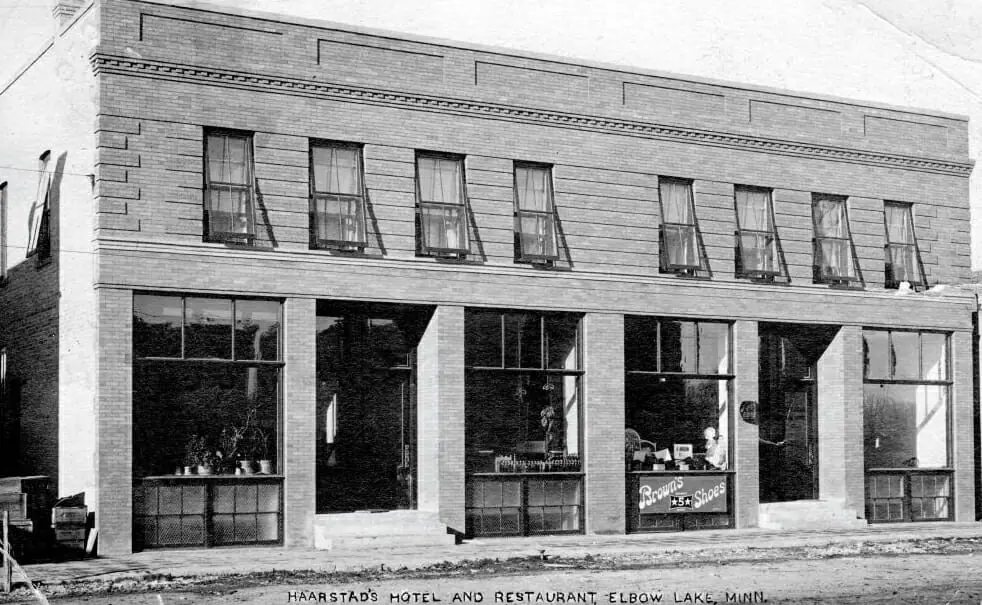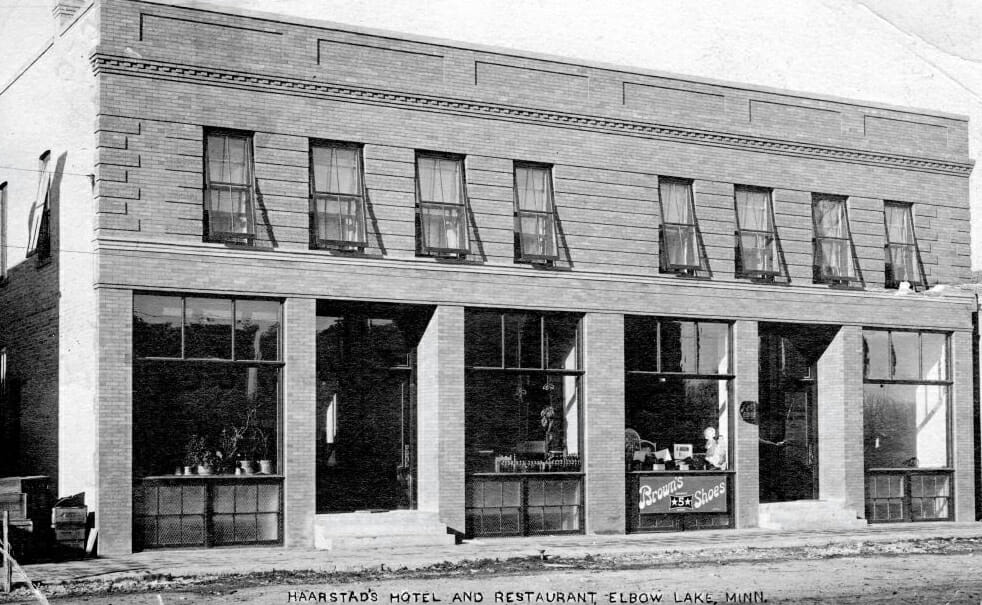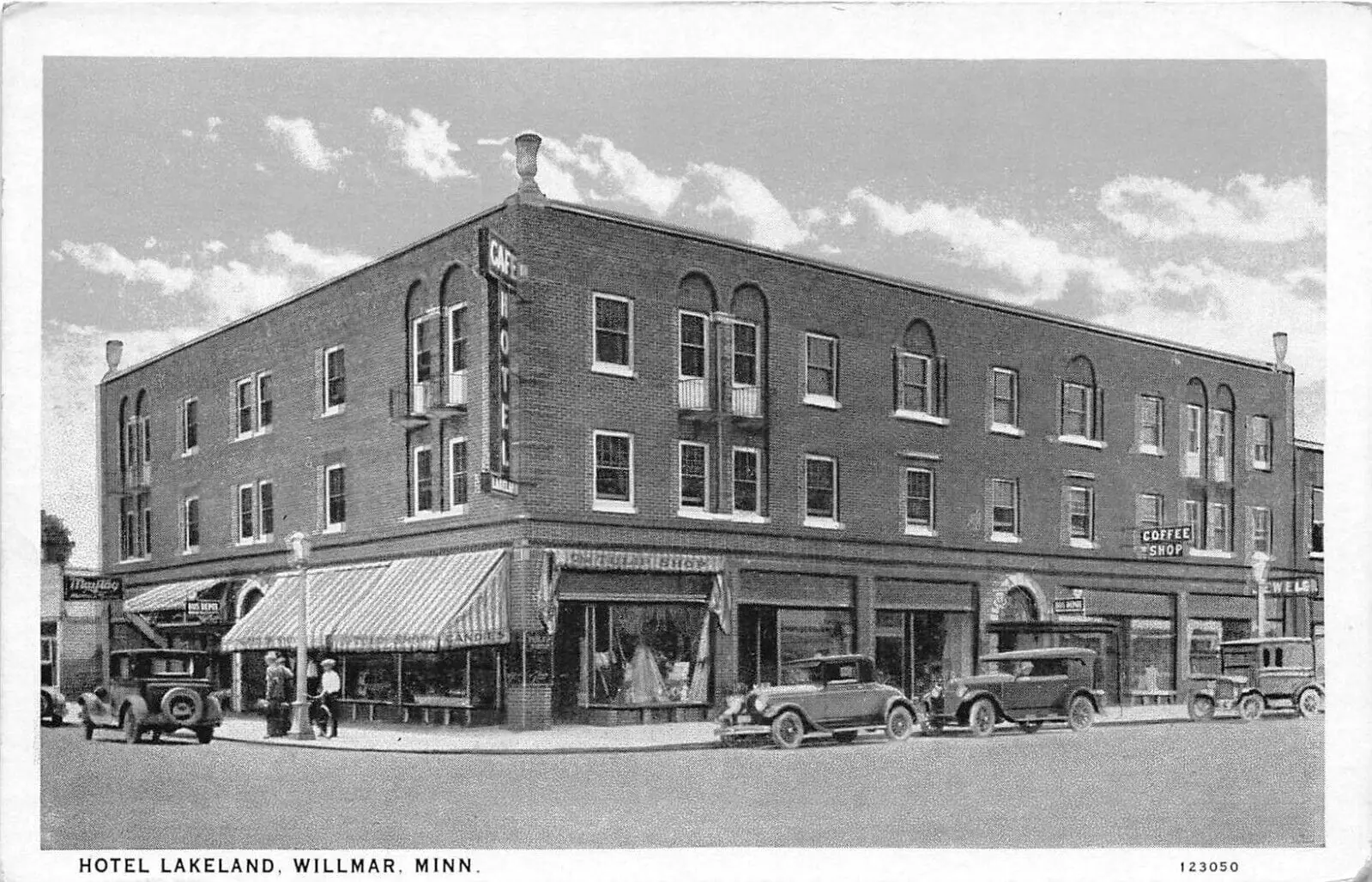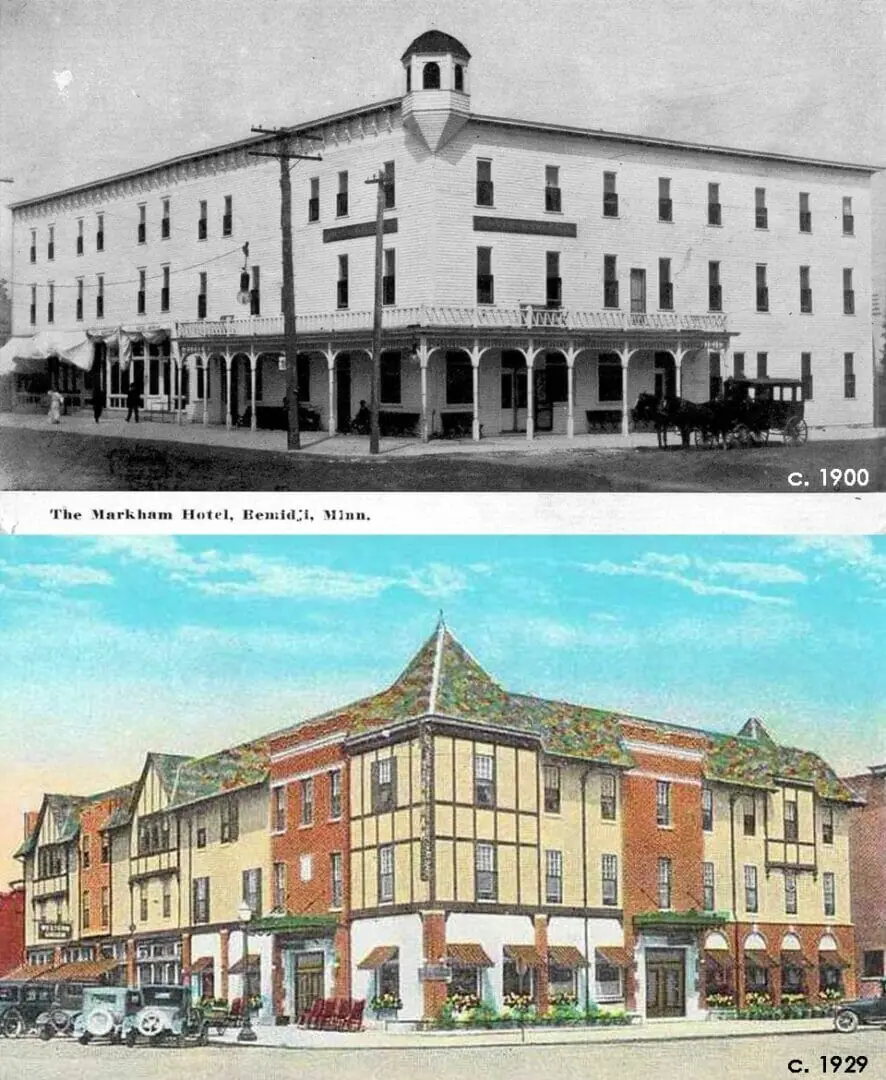 In 1950, Foss designed the Frederick Martin Hotel on Center Avenue in Moorhead, MN. With its Tree Top restaurant overlooking the riverfront cities, the first-rate hotel was featured in Time Magazine as "One of the finest small-town commercial hotels in the United States." The hotel closed in 1972 and has become office space since. However, Downtown Moorhead is currently undergoing revitalization, and a local developer intends to restore the building back into a hotel.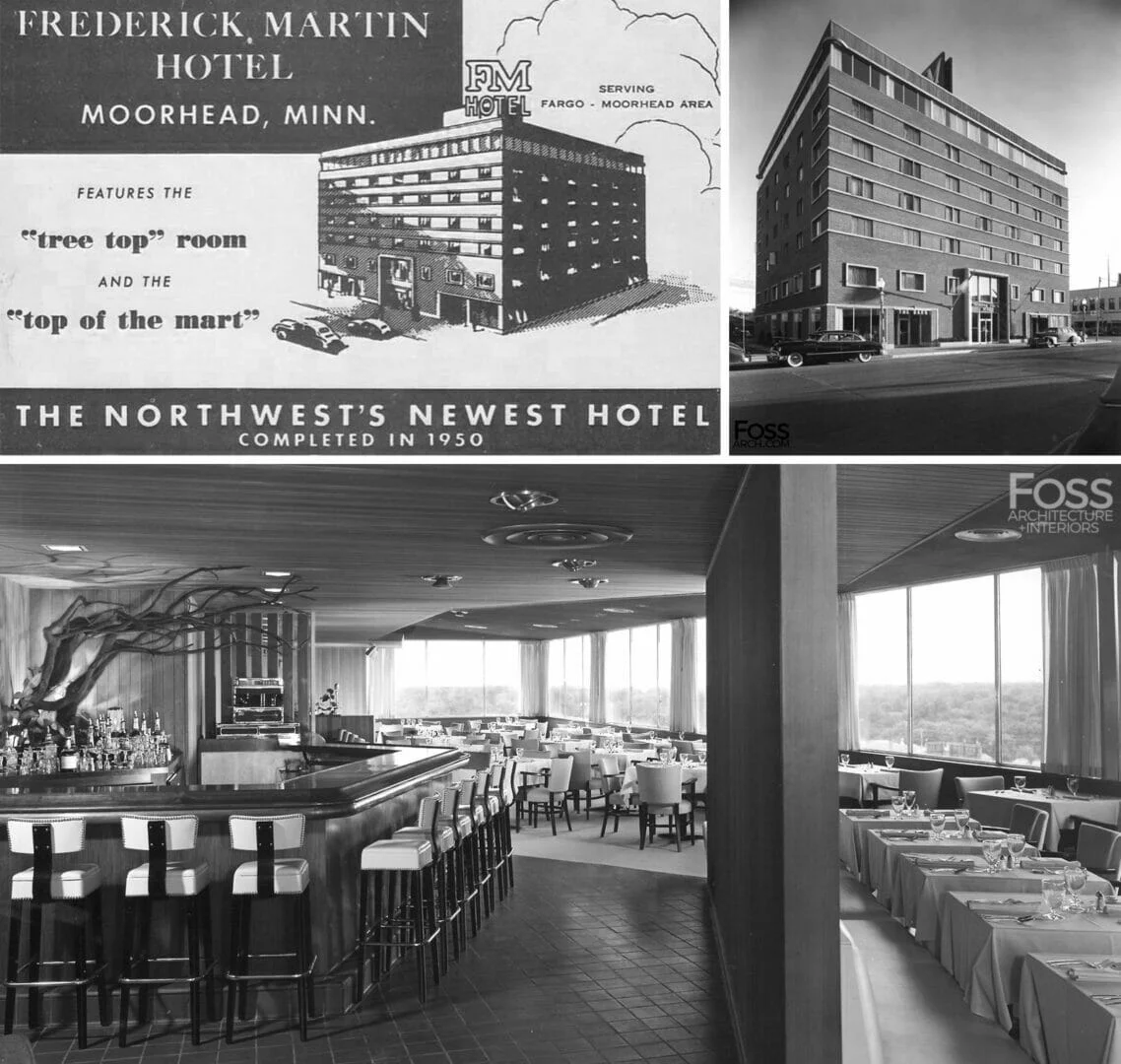 In 2001, Foss helped with the restoration of the historic Hotel Donaldson in Downtown Fargo, ND. Renowned for showcasing local artwork in its rooms, the hotel spurred the revitalization of Downtown Fargo.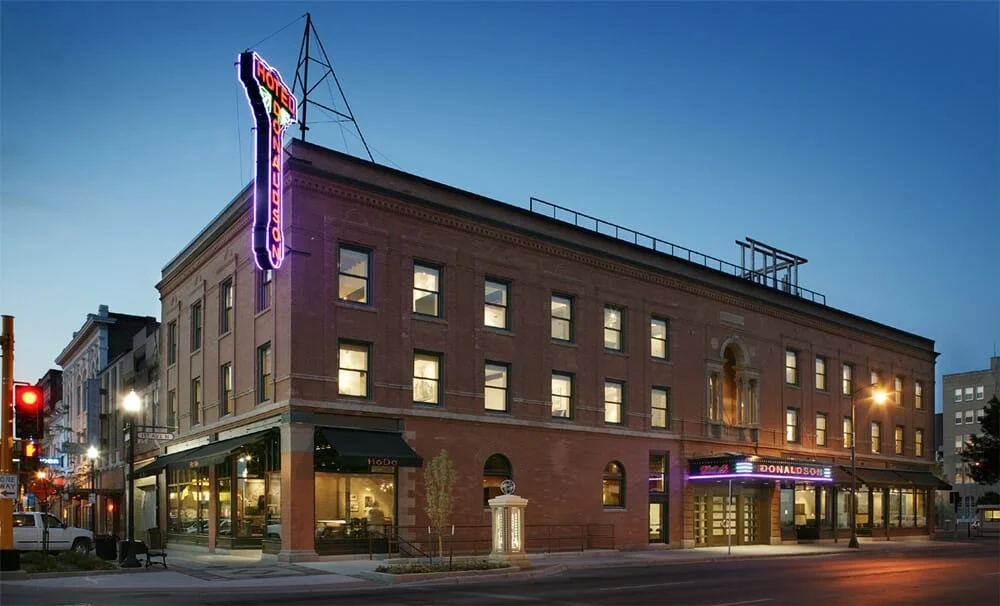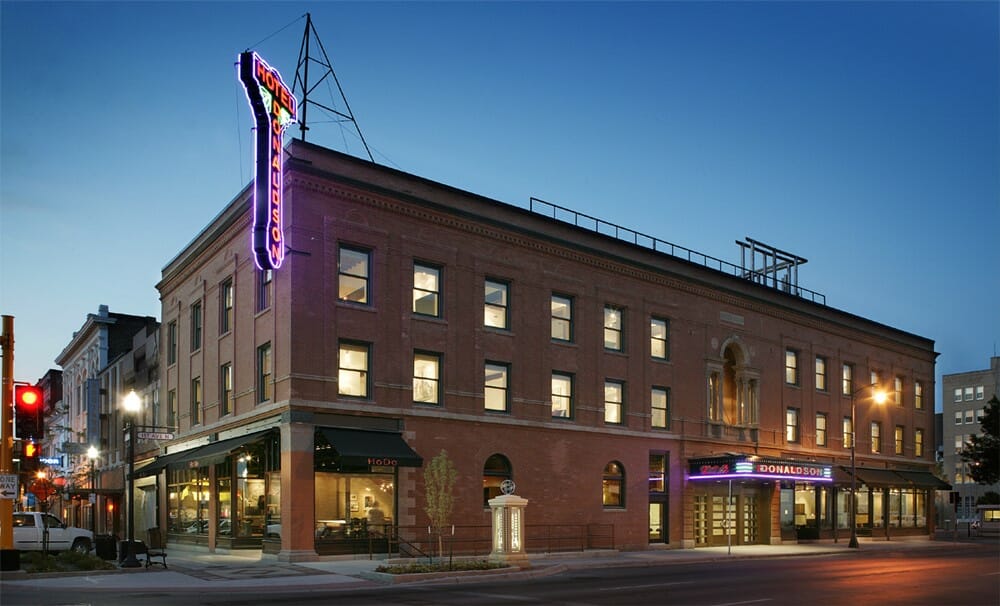 More recently, Foss has teamed with other national architecture firms to design new hotels and casinos throughout Las Vegas and other vacation destinations. "Firms across the country collaborate with us because of our Midwest work ethic," according to Erickson. "Our construction knowledge and attention to detail is unparalleled."
Most rewarding is the work Foss does for the Ronald McDonald House Charities of the Red River Valley. Much less a hotel and more of a home away from home, the Ronald McDonald House provides a safe and comfortable place for families and parents to stay while their child receives medical care at the nearby hospital. "My favorite space is the Magic Room which we designed to look like a hidden cave of treasures," says Shelly Richard. "The amazement on a child's face when they use the 'magic word' to open the door and select any toy they choose is priceless. Providing that happiness in this scary time for the ill child is a great result."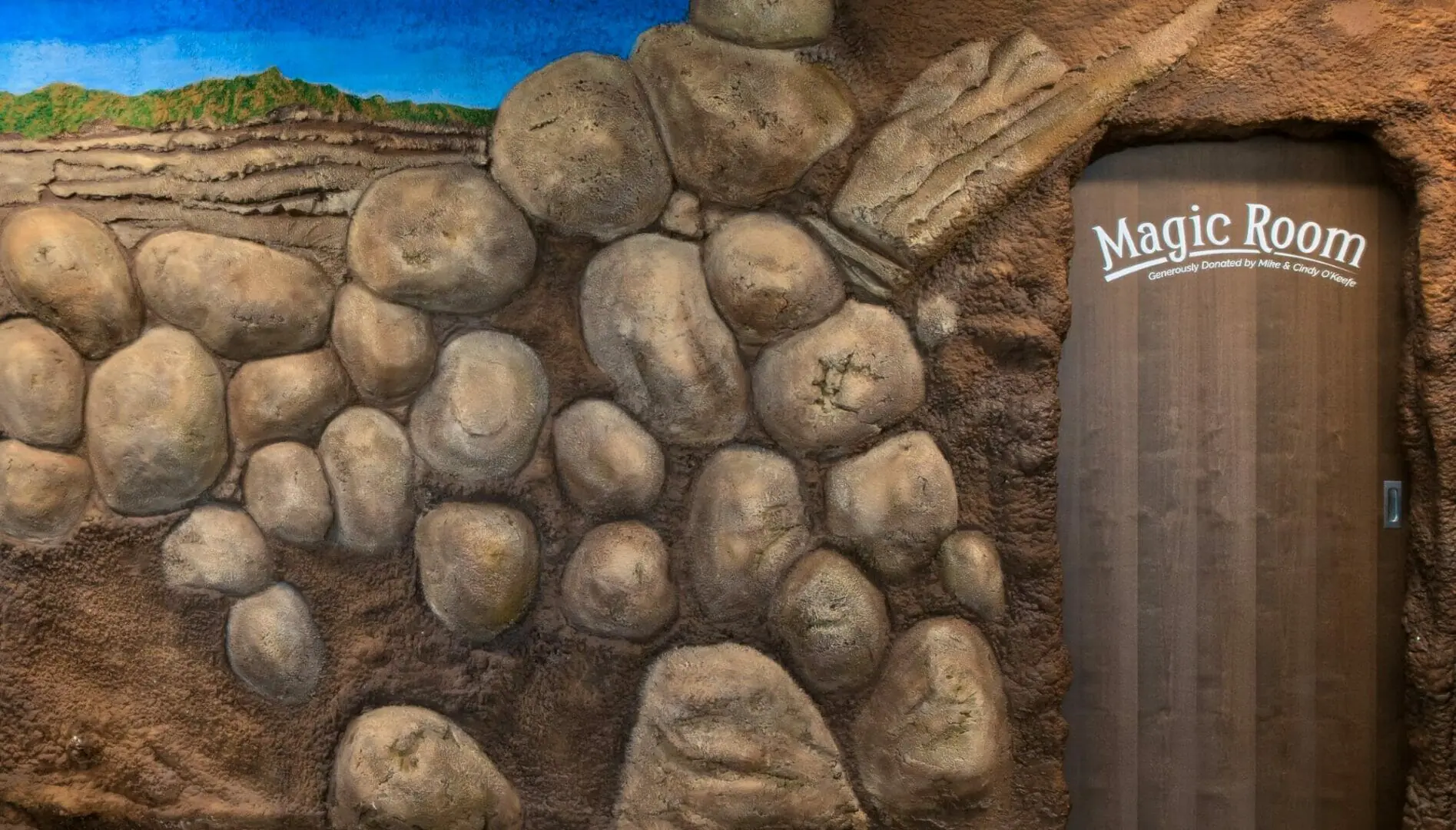 [RESIDENTIAL]
While Foss has designed many residences in its early days, there are a few notable projects of historical significance. In 1924, after the firm moved back to Minneapolis, Foss designed the Tau Kappa Epsilon Fraternity House at the University of Minnesota campus. A news article in the 1924 Minneapolis Journal announced that the "TKE Fraternity is Building a Castle" which would house 42 men. The historic district of fraternity houses known as 'Fraternity Row' has a mix of architectural styles including Beaux Arts, Classical, Georgian, and English Revival and were built between 1900 to 1936 along University Avenue.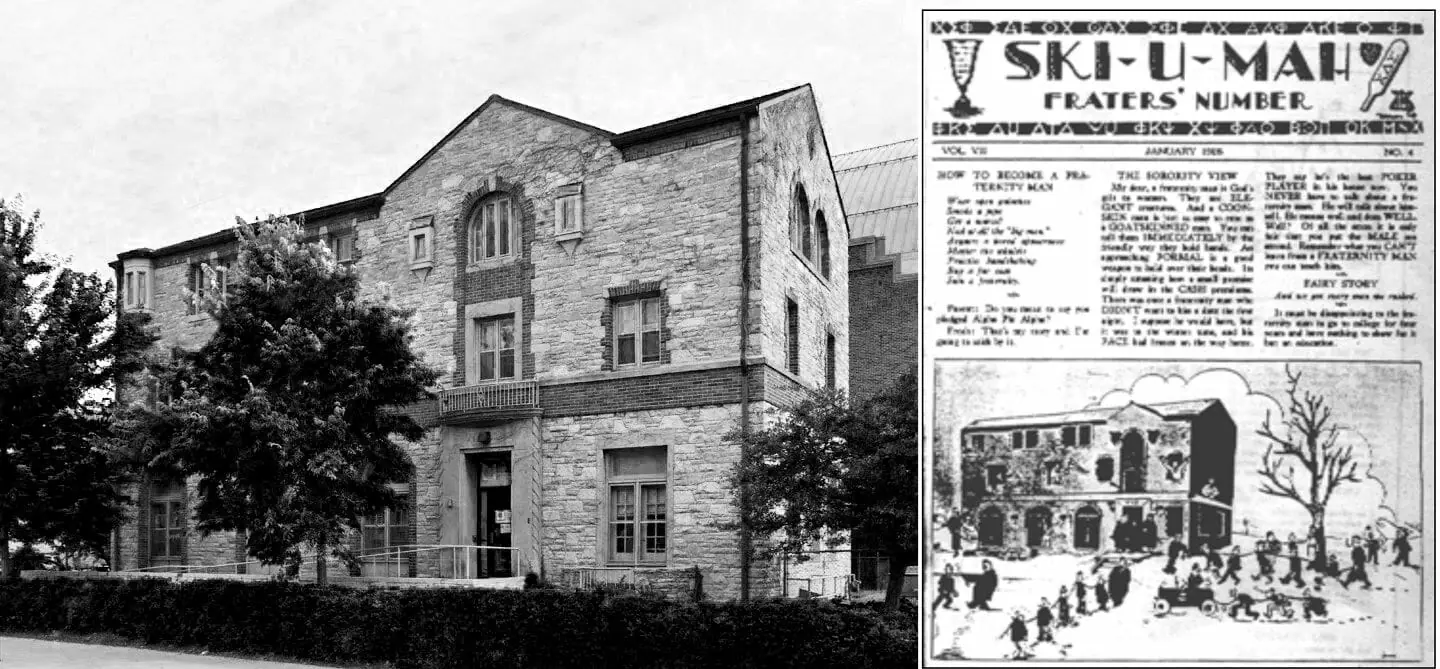 When the firm moved to Fergus Falls, MN in 1928, Foss transformed a former Battle Lake, MN hotel into a Georgian Revival style home in 1929. The Prospect House, originally constructed in 1887 as a resort hotel, now serves as a museum and is listed on the National Register of Historic Places.

"Some of Foss's historic projects have set the standard for contemporary architecture in our region," says Peterson. The David Park House of 1936, for example, was the first Streamline Moderne style home in Bemidji, MN where Foss innovatively experimented with poured concrete in curvaceous forms. "The form is indicative of a grand piano and is unlike any other houses from the 30's," says Peterson. "Its innovation in design for its time is why it's one of my favorite Foss projects listed on the National Register of Historic Places." Eleanor Roosevelt once visited the home while staying in Bemidji at the Markham Hotel which was also designed by Foss. The David Park house now serves the Bemidji State University Alumni Foundation.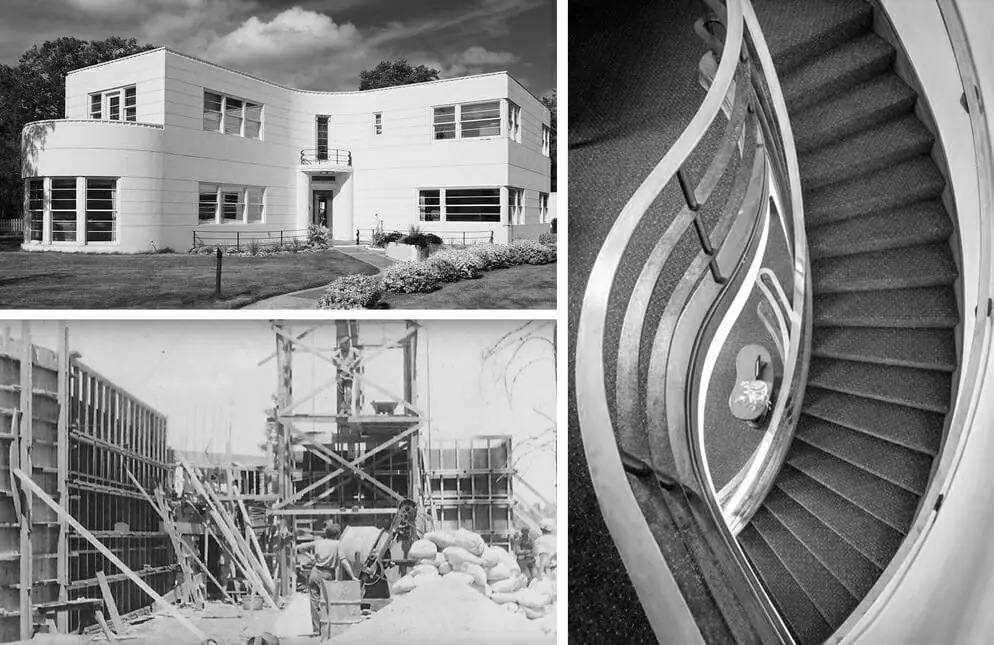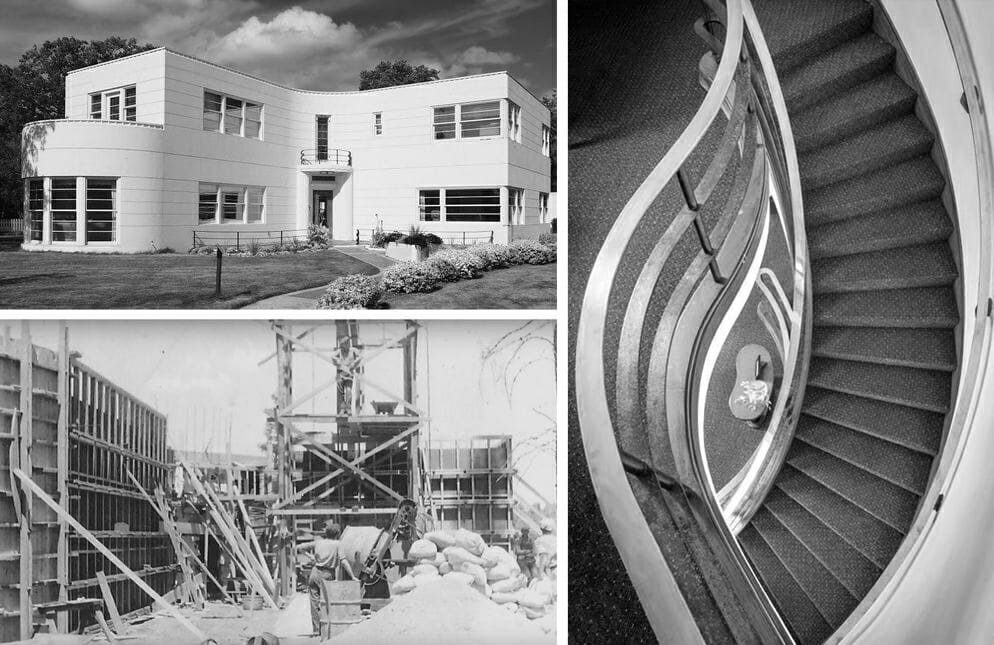 Foss's recent housing portfolio ranges from affordable senior housing, downtown lofts, and high-end mixed-use developments. "Our multi-family housing work has taken off in recent years as residents prefer convenience and lifestyle living with shared amenities," says Peterson. Foss has designed over 1,000 units of housing in just the last 10 years. "Regardless of project scale or budget, we place great importance on creating living environments that enhance an occupant's sense of home."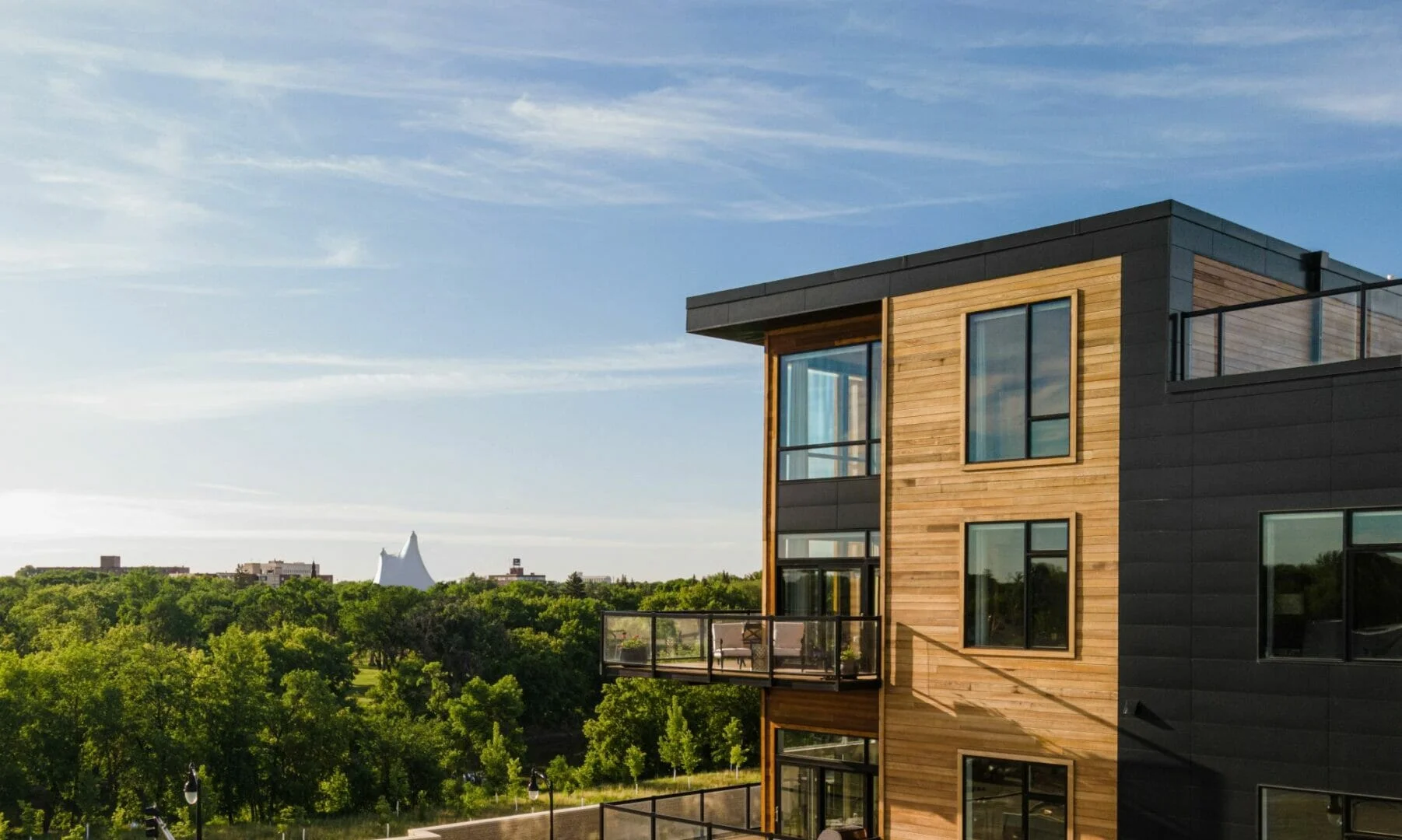 [CULTURAL]
In 1977, Foss teamed with world-renowned architect Michael Graves to design the Fargo-Moorhead Heritage & Cultural Bridge. The bridge was never built, but the publicity put Fargo-Moorhead on the map globally. The critically acclaimed design was featured in 30 articles and national publications, including the Wall Street Journal, Time, Newsweek, and many architectural publications. The architectural model of the bridge was showcased at the Museum of Modern Art in New York City. To this day, local residents have been advocating for an iconic pedestrian bridge connecting Fargo & Moorhead across the Red River. "Nothing has put Fargo on the global map more than the Coen Brother's movie, but I think an iconic bridge would be a great addition to our community," says Peterson. "We recently completed some riverfront lofts which would have prime views of the new bridge if built."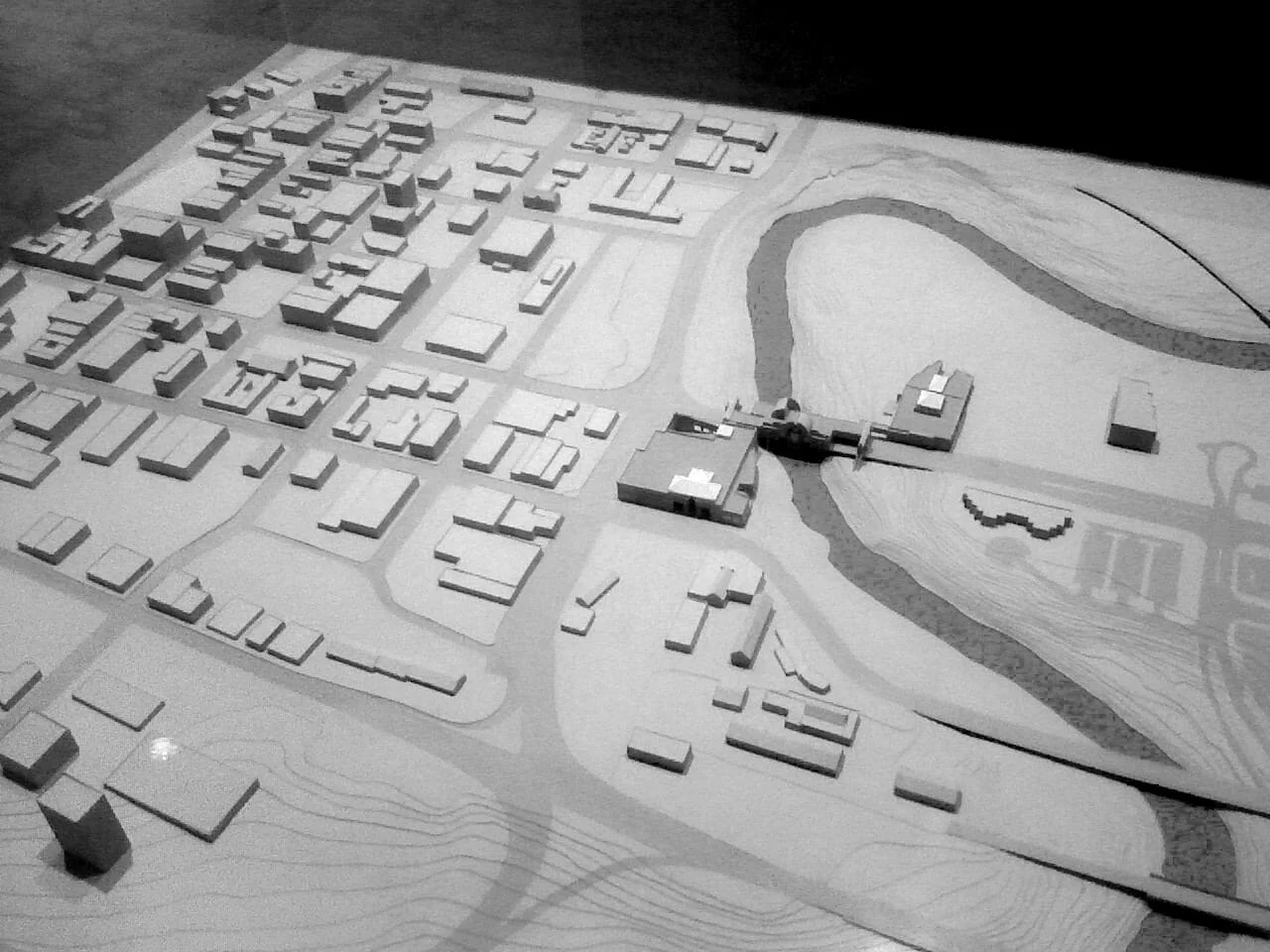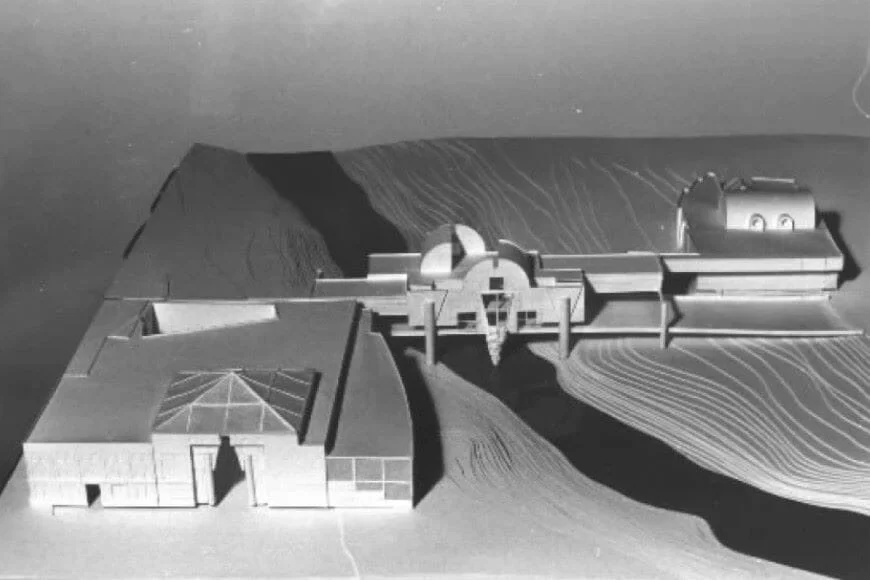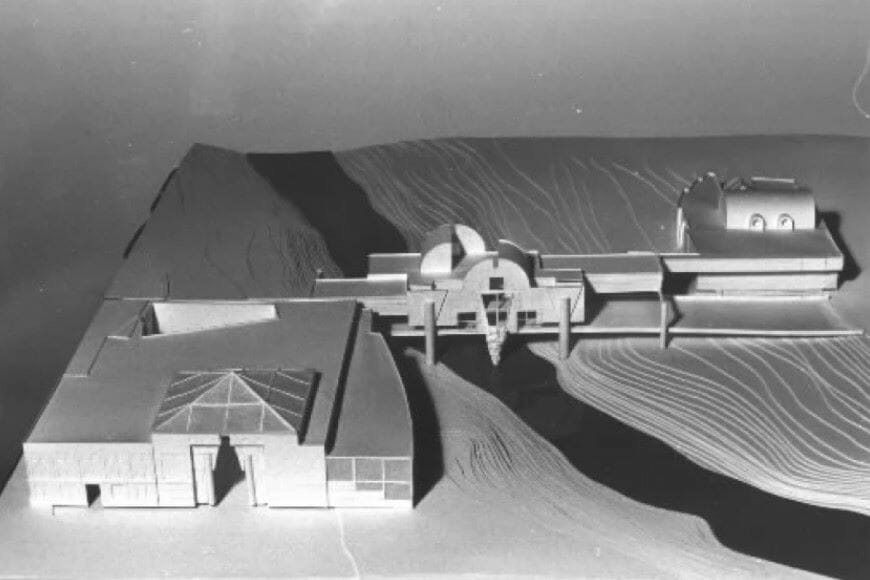 In 1997, Foss helped transform the historic International Harvester warehouse into the modern Plains Art Museum. Much like the Hotel Donaldson restoration, this project helped revitalize Downtown Fargo. Visitors enter a lobby enriched by the original heavy timber structure, exposed brick walls, and a 3-story daylit atrium. Foss worked with the State Historical Society of North Dakota and National Park Services on historic preservation of the adaptive reuse project. Today, the museum is North Dakota's premier art museum and showcases 4,000 permanent works along with several special exhibitions annually.
"It's inspiring to see our community's continued investment in public art throughout our downtowns and along the river," according to Peterson. Before recently retiring, former Foss principal Robert Ames was involved in the design, construction, and fundraising of the Spirit of the Sandbagger memorial for the Fargo Lions Club 100th anniversary. The gateway arch to the river is a public art project that commemorates the community's efforts in fighting record floods in the Red River Valley.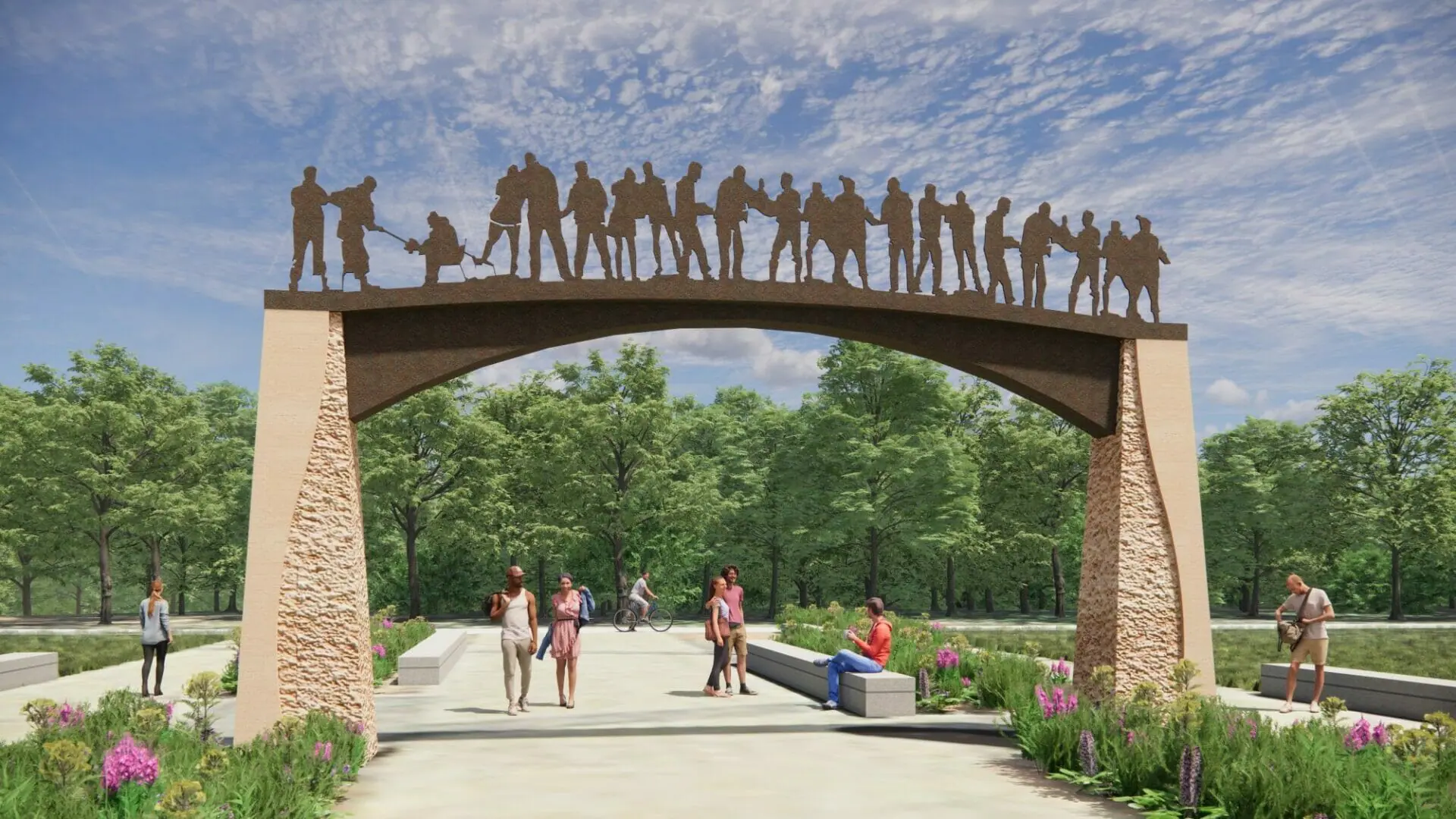 [CONSTRUCTION INNOVATION]
Throughout the 1950's, 60's and 70's, Foss continued as pioneers in concrete construction. Foss engineers utilized techniques such as the lift-slab system in high-rises which consisted of pouring reinforced concrete floors on the ground, stacking them, and then lifting them into place with a system of hydraulic jacks and tension rods. Foss designed some of the tallest lift-slab structures in the nation at the time. Foss also pioneered the use of long-span concrete roof structures and continued experimenting with concrete wall systems. The 1971 Fargo National Bank Highrise, for example, utilized monolithic concrete walls as bookends to the light and airy glass curtainwall system. Overlooking Broadway and Island Park in downtown Fargo, the 12-story bank is currently being renovated into Bell Bank's new corporate headquarters.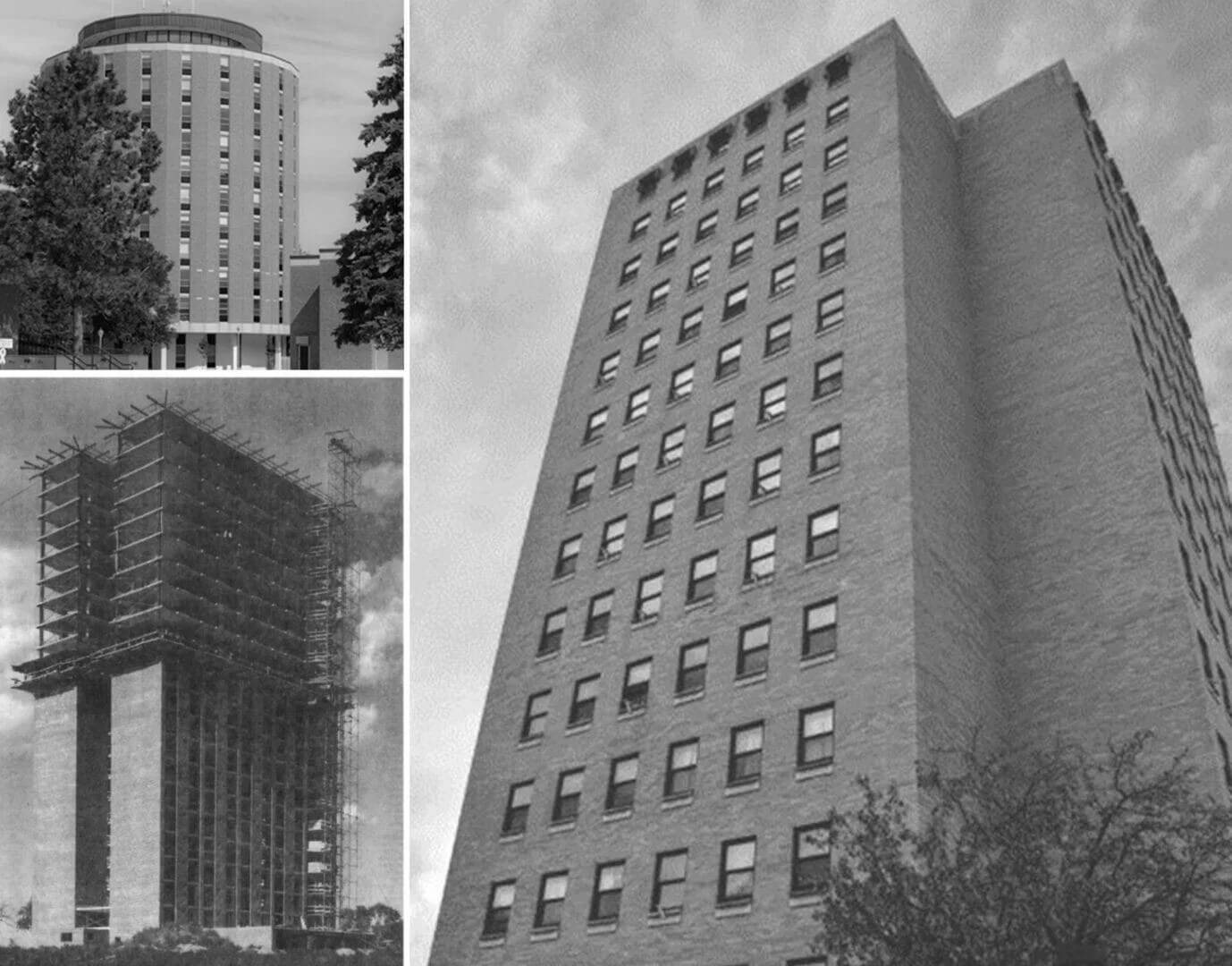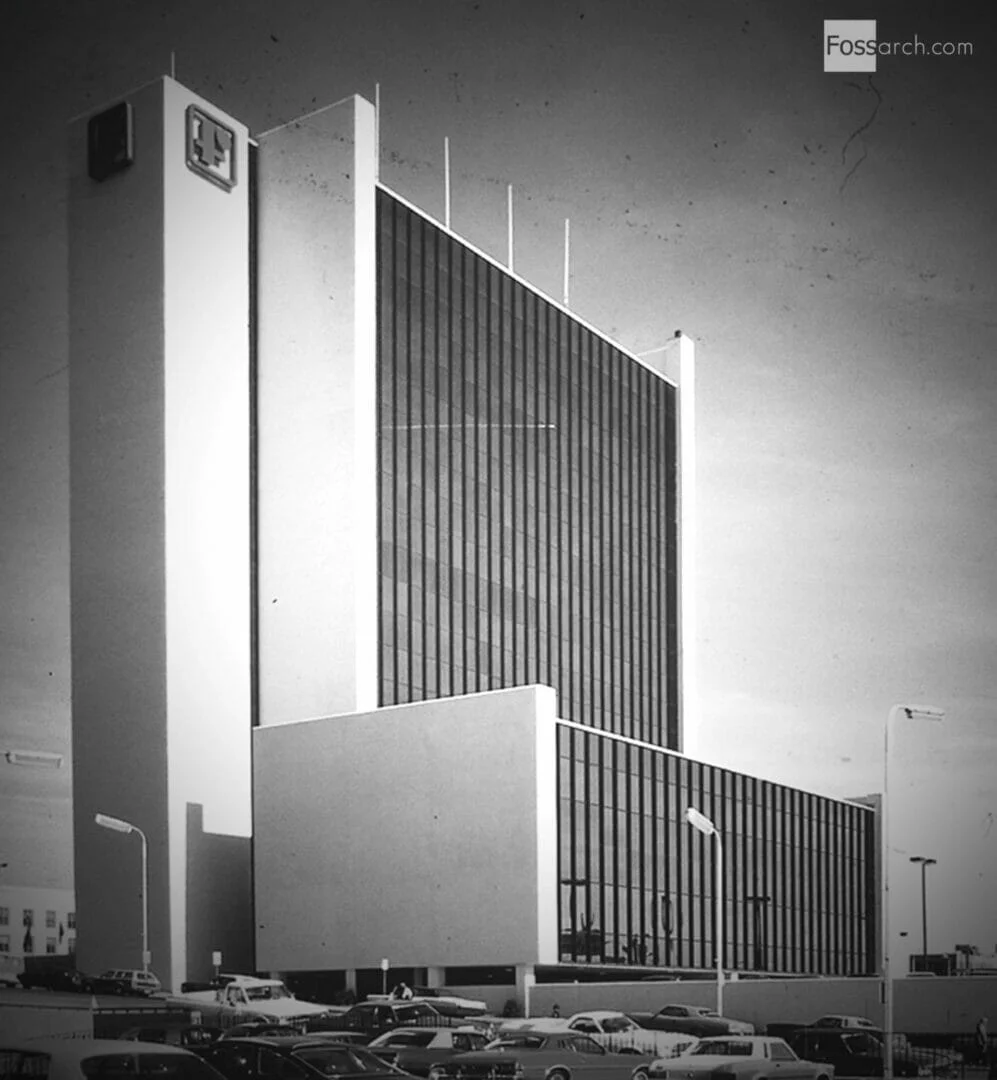 The Moorhead City Hall is another Foss project from the 70's that experimented with architectural precast concrete. Nicknamed the 'Sugar Cube', the riverfront tower has an iconic presence on the downtown Moorhead skyline and is a prime example of mid-century modern architecture that utilized precast concrete in expressive ways. The precast concrete wall panels were manufactured off-site in climate-controlled conditions, shipped to the construction site, and erected in a timely manner. By varying the depths and shadow lines of the precast wall panels, the architectural façade appears to change throughout the day as the sun changes position in the sky.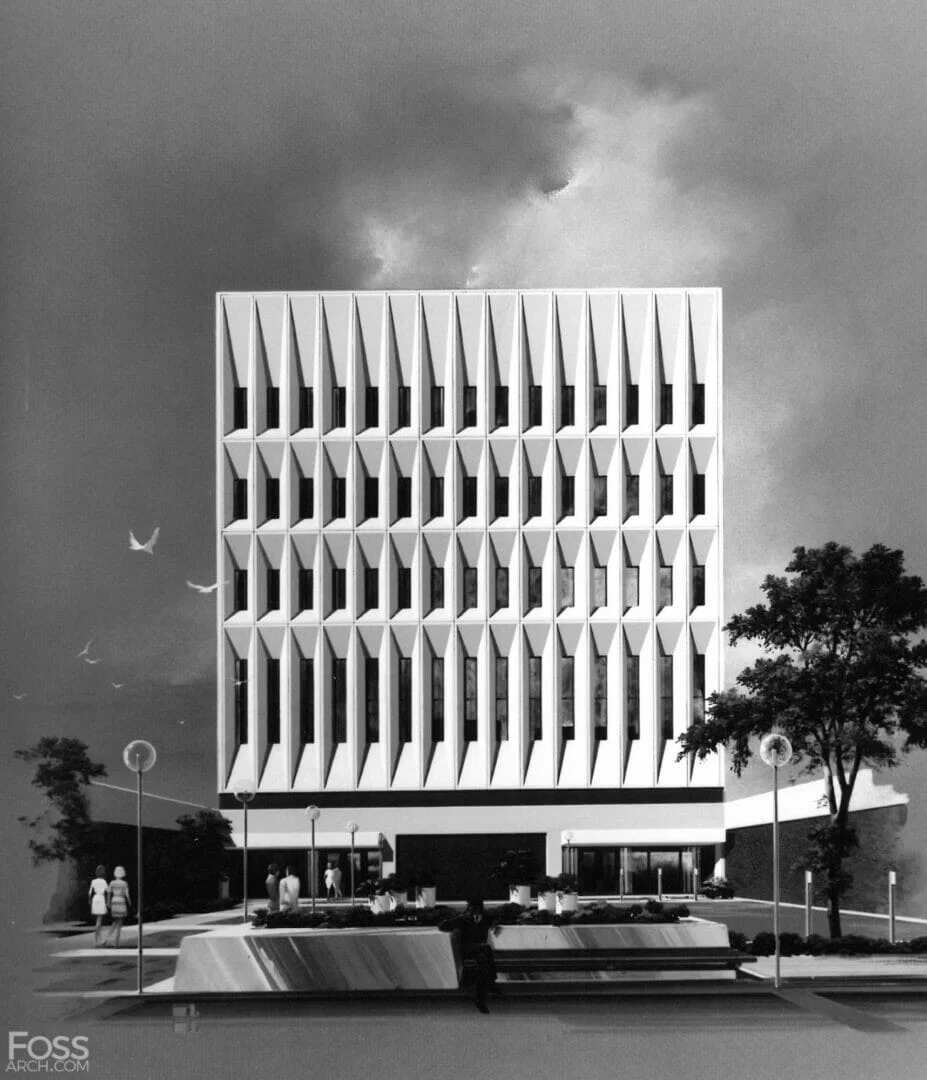 "Precast concrete systems are still very popular today," says Erickson. "We're currently using precast concrete wall panels on projects such as the Vaderstad U.S. Corporate Headquarters in Wahpeton, ND and NDSU Football Performance Complex in Fargo, ND. They allow a nice balance of aesthetics, cost, durability, energy efficiency, fire resistance, and speedy construction in all seasons."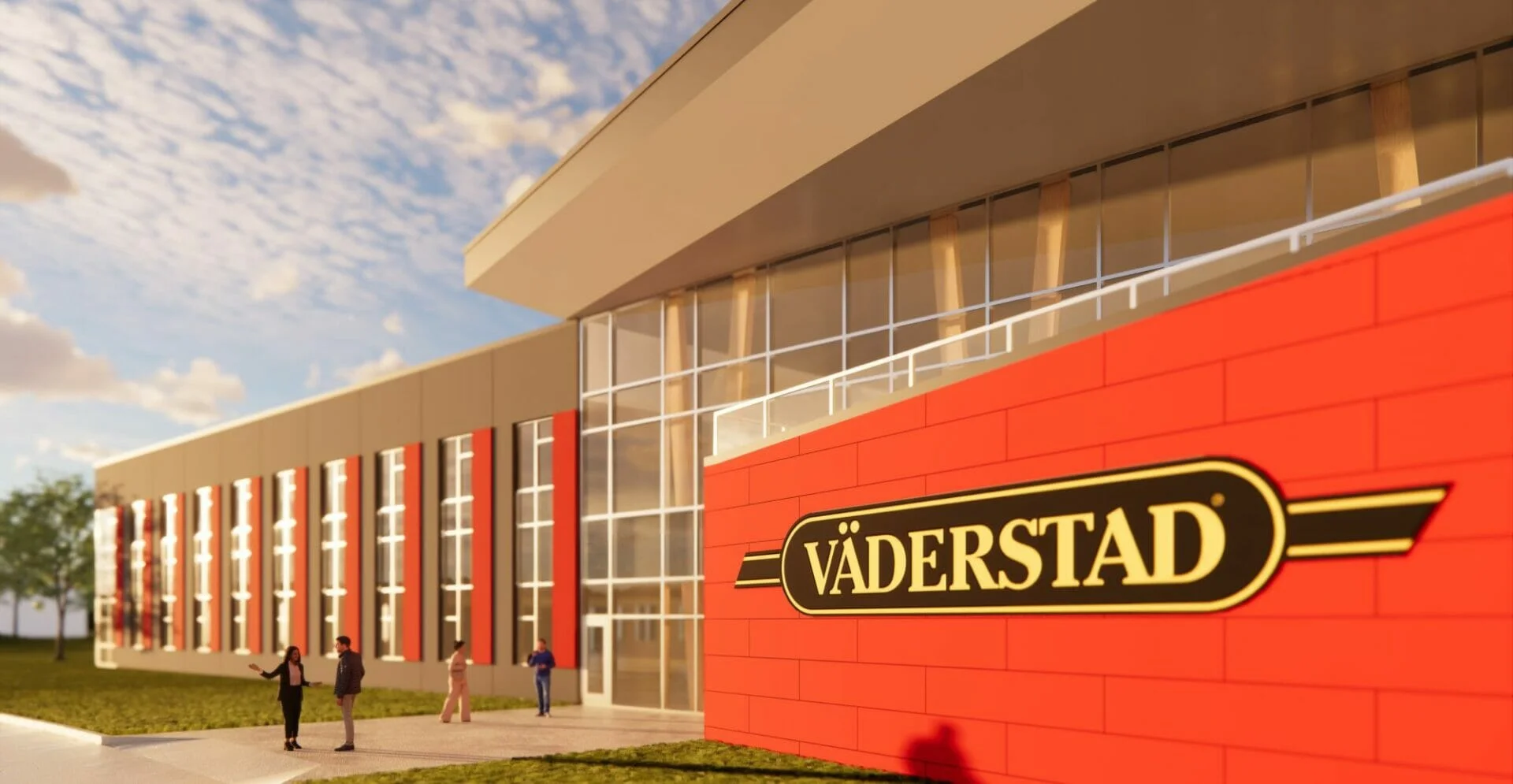 Today, Foss buildings utilize more glass for exterior facades now that these systems have become more energy efficient. Glass provides health benefits in the workplace, learning environment, or in healthcare settings by providing daylight and improving morale. Recent advances in technology allow glass to be used in new ways. Smart glass, for example, is an electrochromic glazing that allows windows to switch from tinted to clear by introducing an electrical charge that causes lithium ions within the glass to change composition.
[SUSTAINABILITY]
Another project ahead of its time was the 1979 Blue Cross Blue Shield Office Building in Fargo, ND. Along with using futuristic stainless steel cladding, the building had a 4,000 square foot array of solar panels which was innovative technology at the time. Computers were also gaining popularity in the corporate workplace. Heat from the computers was stored, and modular heat pumps allowed the building to be energy self-sufficient throughout much of the year. The building was also designed with stepped overhangs to allow solar heat gain in the winter while keeping the sun out in the summer and orientated to allow views towards a pond with native wetland plants.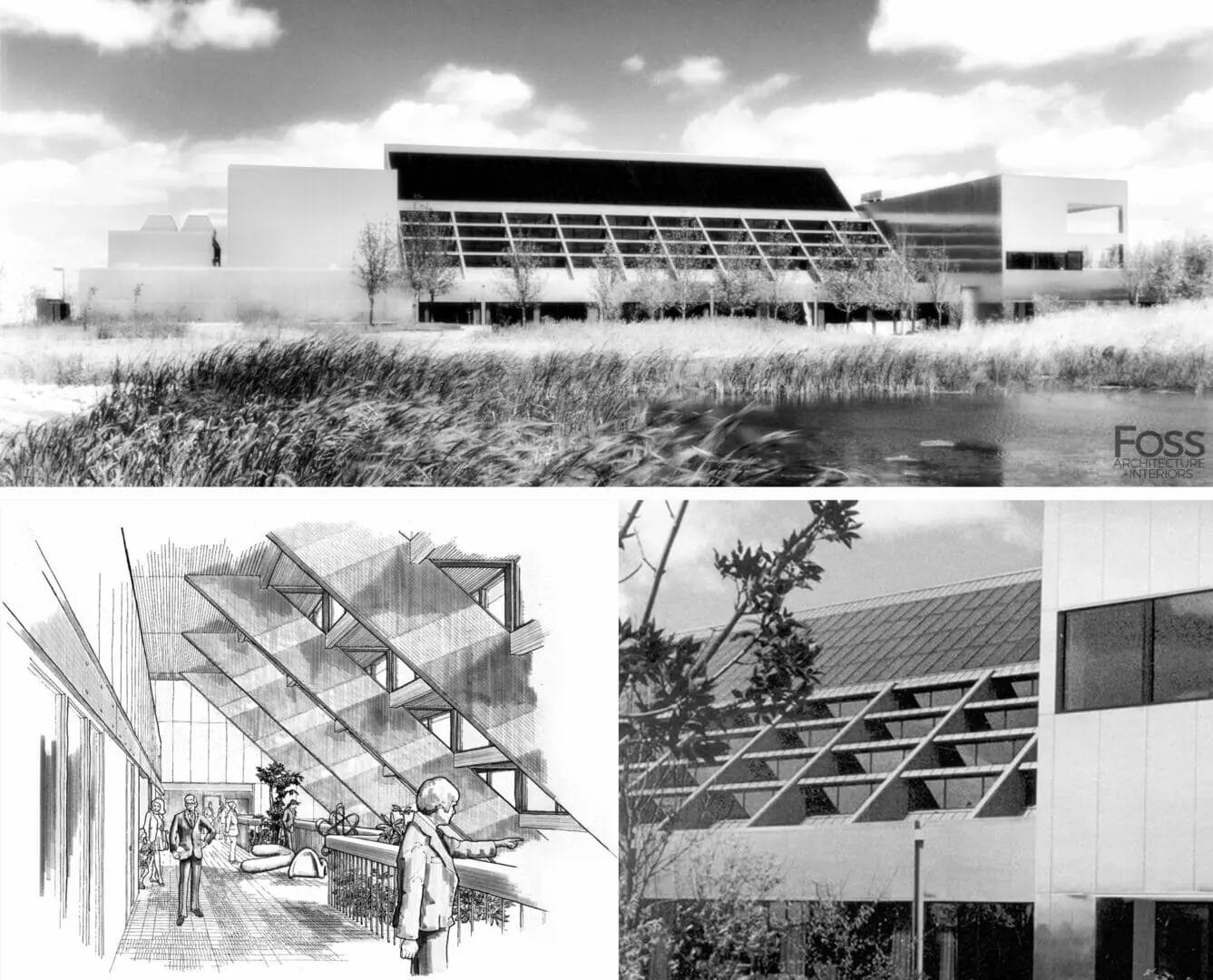 "We use many of these sustainable design strategies today," according to Steve Skoblik, architect of the Concordia College School for Business and Integrated Science Center. Foss used Leadership in Energy & Environmental Design (LEED) strategies to incorporate sustainable elements into the LEED Gold certified buildings. Solar panels, living plant walls, pollinator gardens, weir wall stormwater filtration, enhanced daylighting, and recycled materials are a few methods used in the project. Concordia College recently announced its plan to go carbon neutral by 2050.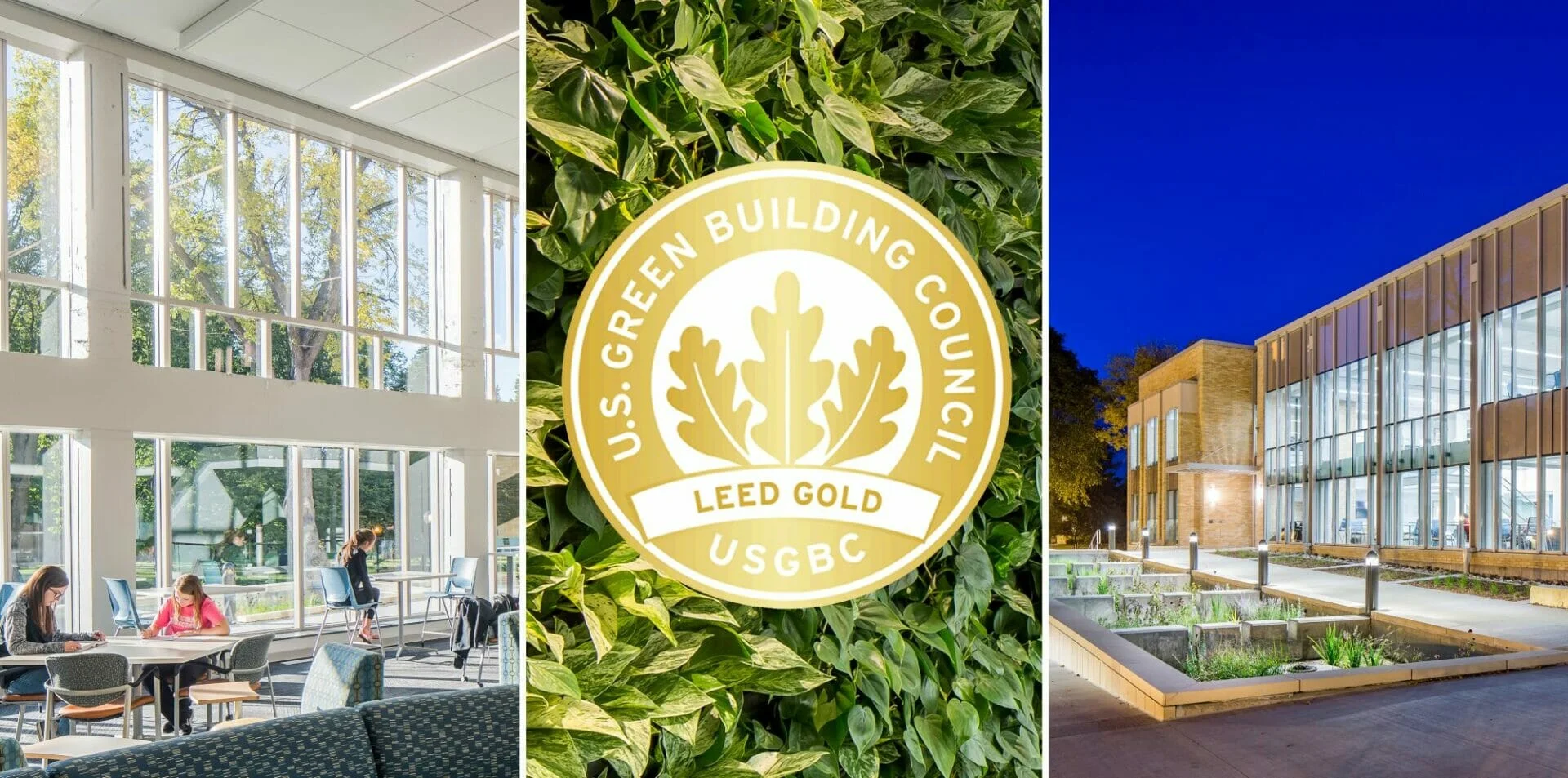 "It's very rewarding to be a steward to our environment while also providing great value to our clients in the process," says Peterson. The Itasca College Classroom Building in Grand Rapids, MN takes advantage of its natural Northwoods setting by providing abundant daylighting & views, salvaged timbers, and local materials. The design won a B3 Sustainability Award for Environmental Quality. "While our roots are deep, we are always moving forward towards a sustainable and resilient future."

[PEOPLE]
Foss Architecture & Interiors is committed to creating purposeful connections between people and place. "Foss has worked on thousands of great projects, but none of them would have been possible without the incredible people who have contributed to their success," says Peterson. "I recently received a call from the daughter of renowned regional artist Charles Beck who painted several murals in Foss-designed schools in the 50's. The Beck Family graciously shared sketches that Beck created prior to painting the school murals."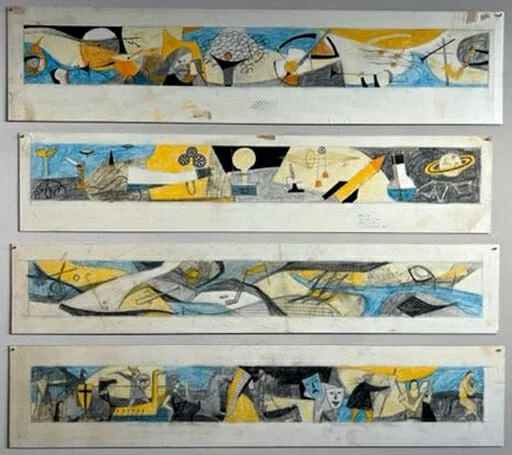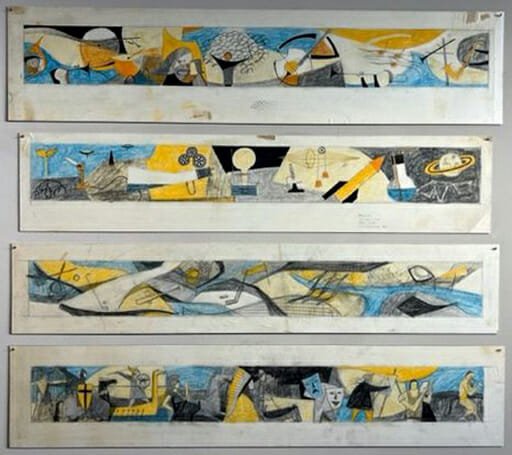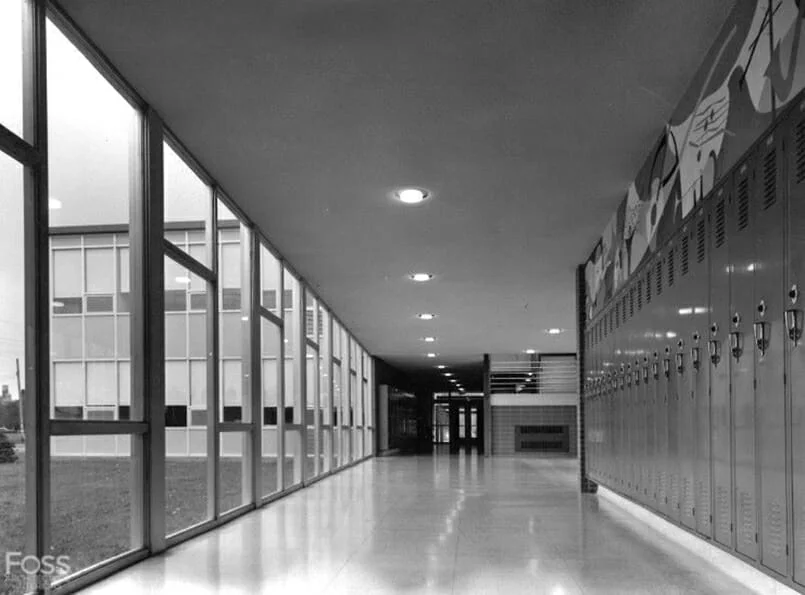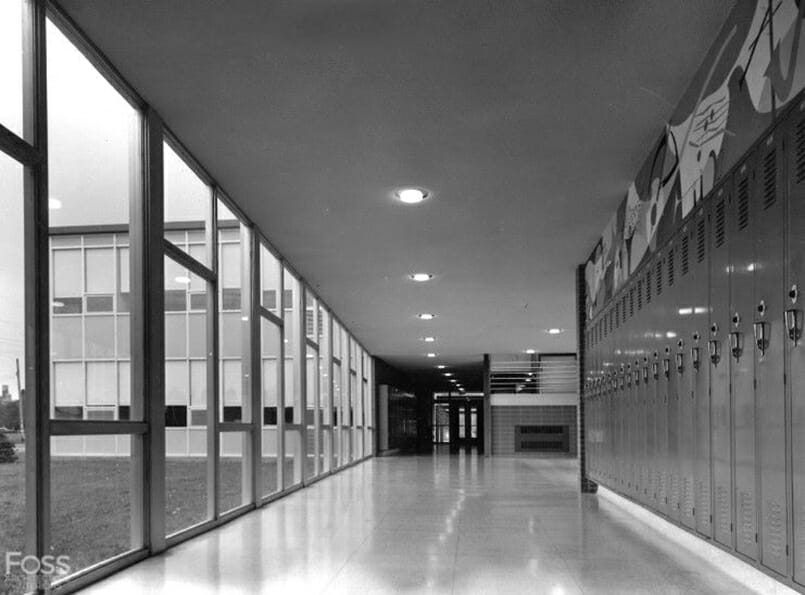 Foss had commissioned Beck and several other artists on projects throughout the region. The Moorhead Senior High School, which was designed by Foss in the 60's, also has a large mural in the student commons that was conceptualized in early architectural renderings by Foss. Former alumni have shared their memories of the school, including the son of an engineer at Foss who worked on the school's electrical design nearly 60 years ago. "It's amazing to hear these stories and how our architecture has had positive impacts on the community," says Peterson.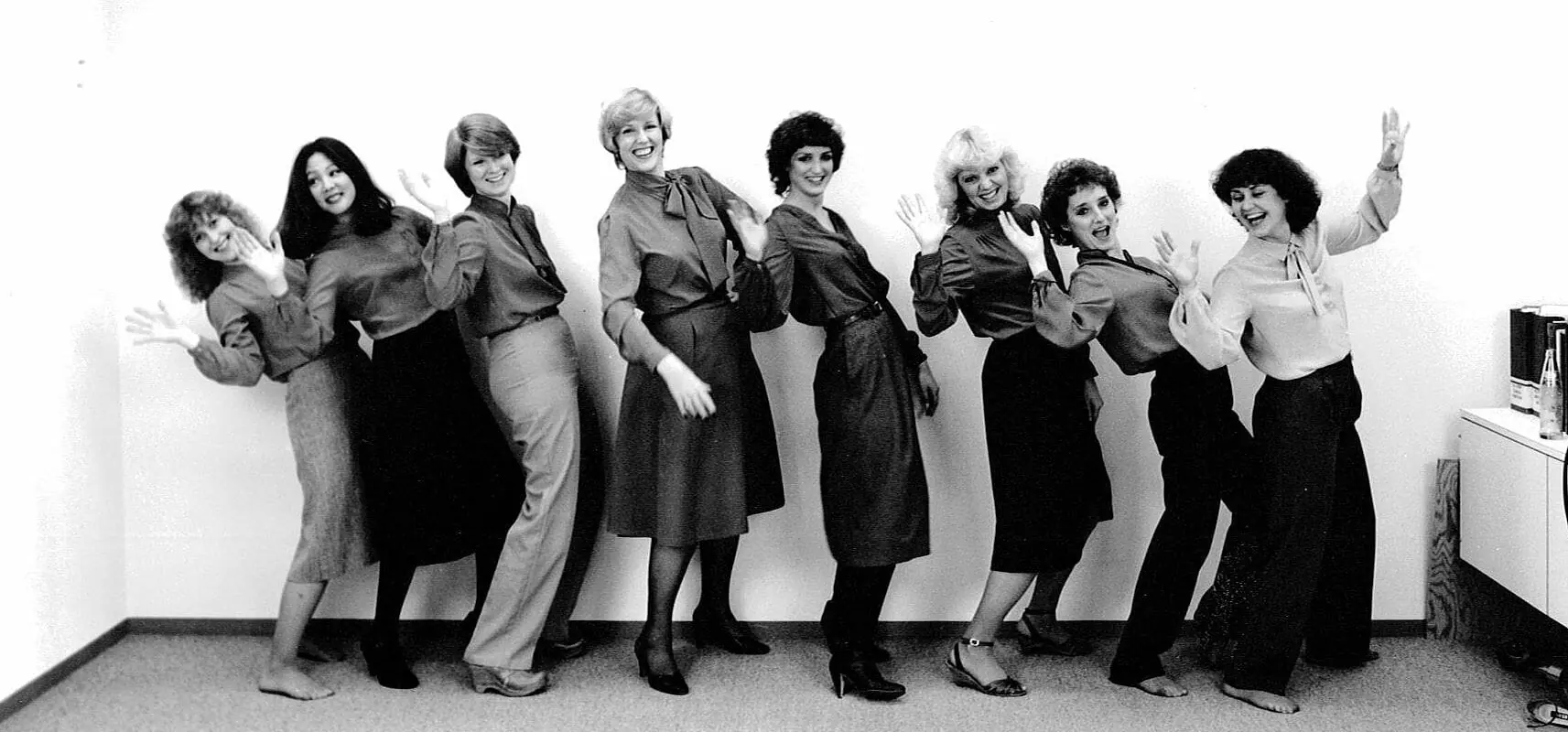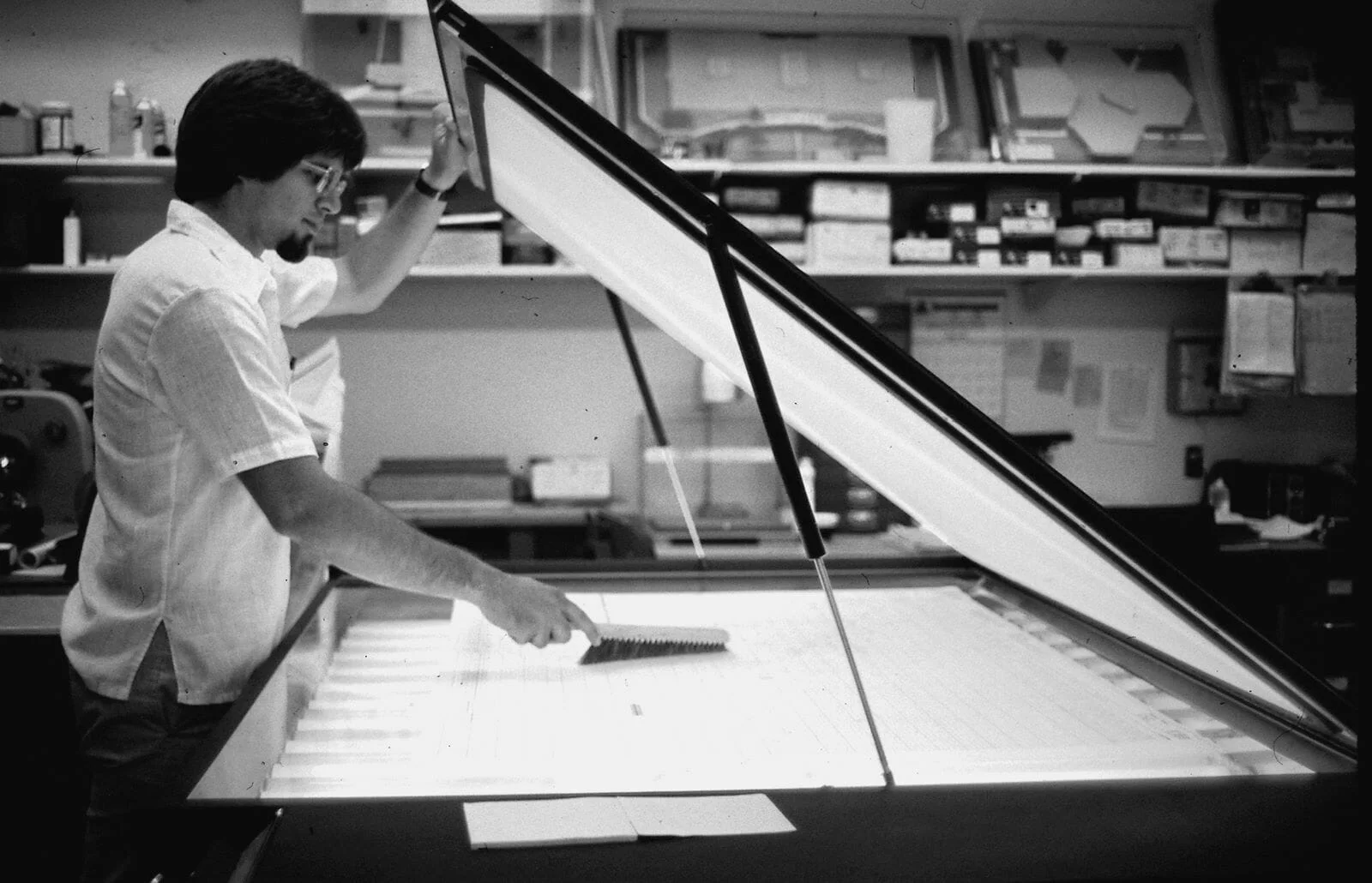 From artists to engineers, Foss Architecture & Interiors has employed hundreds of people throughout the years. However, Foss prefers to maintain a medium-sized office. "It has fostered a family-oriented culture," says Shelly Richard. "We pride ourselves on being a firm large enough to tackle any projects yet personalized enough to work closely with our clients throughout all phases of building planning, design and construction," Skoblik added. Many Foss staff have been with the firm for many years. "We don't have a lot of staff turnover which is a testament that we're doing something right," says Erickson, "but we're always looking to add new talent and diversity to our team." Foss also doesn't have much client turnover and sees a lot of repeat work. "Our company has built a philosophy of devotion to our clients – it's their loyalty and trust in us that has kept the doors open for 125 years."